Inscripción abierta para la Conferencia Mundial de Cooperativas de Ahorro y Crédito 2018
January 29, 2018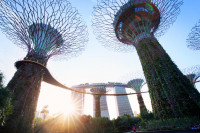 Sirviendo como una puerta de entrada a Asia, Singapur es un centro financiero global que ofrece una vibrante mezcla de culturas y delicias culinarias.
MADISON, Wis. - El Consejo Mundial de Cooperativas de Ahorro y Crédito abrió el registro para la Conferencia Mundial de Cooperativas de Ahorro y Crédito que se celebrará del 15 al 18 de julio en Singapur. Asista al principal evento global de educación y creación de redes para las cooperativas de ahorro y crédito ofrecido por la industria de servicios financieros. Para obtener más información y para registrarse, visite www.wcuc.org.
Se espera que asistan más de 1.600 ejecutivos y voluntarios de cooperativas de ahorro y crédito de más de 55 países. Sirviendo como uno de los centros de Fintech más grandes del mundo, Singapur representará una sede innovadora durante todo el evento de cuatro días.
Los asistentes a la conferencia escucharán a expertos de la industria sobre los siguientes temas:
Ciberseguridad
Fintech
La Transición Digital
Gobernabilidad
La Experiencia del Socio
El extenso programa educativo incluye 20 sesiones simultáneas, almuerzos y aprendizajes, sesiones plenarias y un Centro de Soluciones orientado a resolver los desafíos de hoy.
También están disponibles excursiones de un día, tours previas y posteriores a la conferencia, una experiencia VIP con los oradores principales de la conferencia durante la Serie Ejecutiva y más. También se ofrecerá un programa para acompañantes que les permite a los participantes explorar Singapur y asistir a las sesiones plenarias y de networking.
Regístrese antes del 11 de mayo para aprovechar las tarifas de inscripción con descuento. Para obtener más información sobre el evento de cooperativas de ahorro y crédito más prestigioso de 2018, visite www.wcuc.org y ¡regístrese hoy!
World Council of Credit Unions is the global trade association and development platform for credit unions. World Council promotes the sustainable development of credit unions and other financial cooperatives around the world to empower people through access to high quality and affordable financial services. World Council advocates on behalf of the global credit union system before international organizations and works with national governments to improve legislation and regulation. Its technical assistance programs introduce new tools and technologies to strengthen credit unions' financial performance and increase their outreach.
World Council has implemented 300+ technical assistance programs in 89 countries. Worldwide, 89,026 credit unions in 117 countries serve 260 million people. Learn more about World Council's impact around the world at www.woccu.org.