International Visitors from Mexico
Caja Popular Mexicana, WOCCU-MX Officials Learn More About Internal Operations From California CUs
CCUL
March 15, 2005
Credit union executives from Caja Popular Mexicana and WOCCU-Mexico visited several League member credit unions, including Wescom Credit Union.
CPM Regional Director Hilario Zavala Maldonado; Regional Director Victor Manuel Perez; and Director of Credit and Collections Fermín Olalde Balderas; and WOCCU-Mexico Project Director Mario N. Galarraga and Project Leader Jorge Gutierrez were visiting to learn more about the areas of internal audit control, risk management, credit and collections, and call centers.
The guests visited Altura Credit Union, Arrowhead Credit Union, Kinecta Federal Credit Union, Orange County's Credit Union, and Wescom Credit Union during their trip in California. The group also took a tour of Universal Studios.
The group's first visit was to Wescom Credit Union in Pasadena on March 9, where they met with CEO Darren Williams; SVP of Finance Ken Kramer; SVP of Planning and Development Joe Schaeffer; SVP of Lending Peter McNulty; VP of Community Relations and Business Development Yesceni Ramirez; Director of Internal Audit Services and Loss Prevention Michael Ivezic; Manager of Collections Department Trina Alli; and Assistant Manager of Consumer Lending Department Tyanne Evans.
The following day, the visitors spent the morning at Arrowhead Credit Union. There they met with VP of Compliance Renee Hunt-Moore; VP of Financial Assistance (Collections) Molly Ramirez; Supervisor of Financial Assistance Samantha Nash; Lead Loan Officer Nicole Huiskens; Lead Financial Assistance Representative Jackie Snow; and Bankruptcy Specialist Michael Ortega.
In the afternoon, they stopped at Altura Credit Union to meet with CEO Mark Hawkins; EVP Ron Woodbury; SVP of Sales and Operations Karen Gracia; SVP of Lending Suzie Kisslan; VP of Marketing and Business Development Ricki McManuis; AVP of Consumer Lending Paul Studer; Director of Member Service Center Tom Farquhar; Director of Operations Brent Richins; Director of Risk Management Kathy Roney; Loan Servicing Manager Joy Donohue; Fraud Investigator Marshal Stevens; and Risk Management Specialist Maria Roy. On March 11, the group trekked to Orange County's Credit Union for a visit with CEO Judy McCartney; SVP and COO Monica Lopez; VP of Lending Jeff Harper; VP of Technology Laura Thompson; AVP of Lending Denise Belland; AVP of Collections Sheila Fisher; AVP of Risk Management Stephanie Heglar; and AVP of Community Education and Development Leticia Mata.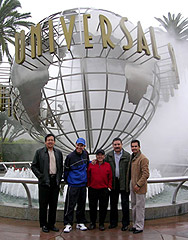 L-R: CPM Director Fermín Olalde Balderas; WOCCU Project Leader Jorge Gutierrez; WOCCU Project Director Mario Galarraga; CPM Regional Director Victor Manuel Perez; and Regional Director Hilario Zavala Maldonado enjoy their time at Universal Studios.
That same day, the visitors also traveled to Kinecta Federal Credit Union to meet with several credit union officials, including CFO John Carson, VP of Consumer Loan Operations Steve Nasman; VP of Information Systems Juan Perez; VP of Branch Operations and Project Management Charmaine Velez; AVP of Facilities and Security Patti Perez; Loss Prevention and Recovery Manager Jeff Niedenthal; and Collections Manager Shannon Stewart. After the visits, the group was treated to a dinner and tour of Beverly Hills and Hollywood hosted by the League. The following day, the group visited Universal Studios.
CPM is currently Mexico's largest credit union with 329 branches throughout 22 states, over 803,820 members, and $800 million in assets. CPM has nearly doubled its membership and asset size since formalizing a "People to People Partnership" between CPM, WOCCU, California Credit Union League, and Texas Credit Union League. CPM also credited the assistance they have received from U.S. credit unions in setting policies and procedures to lower their delinquency rate to 4.75 percent from 18 percent without the help of a credit bureau. In May 2005, CPM plans to roll out its new information technology platform that will help CPM centralize its operations and expand its products and services.
Special thanks to the League member credit union that helped to make this visit for CPM and WOCCU- Mexico a successful one!
World Council of Credit Unions is the global trade association and development agency for credit unions. World Council promotes the sustainable development of credit unions and other financial cooperatives around the world to empower people through access to high quality and affordable financial services. World Council advocates on behalf of the global credit union system before international organizations and works with national governments to improve legislation and regulation. Its technical assistance programs introduce new tools and technologies to strengthen credit unions' financial performance and increase their outreach.
World Council has implemented 300+ technical assistance programs in 89 countries. Worldwide, 68,882 credit unions in 109 countries serve 235 million people. Learn more about World Council's impact around the world at www.woccu.org.