Iowa CU League Supports CU Regulation in Panama
January 19, 2007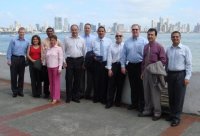 At the Plaza de Francia outside Panama's presidential palace (l-r): Murray Williams (ICUL), Enereida Barrías (COFEP), Manuel Tejada (COFEP), Magda Araúz (COFEP), Mark Kilian (Community Lenders), Justin Hupfer (ICUL), José Montenegro (COFEP), Pat Jury (ICUL), Pat Drennan (ICUL), Jacinto Villarreal (COFEP), and Victor Corro (World Council).
Madison, WI—Five delegates from the Iowa Credit Union League spent last week in Panama to support the educational and lobbying initiatives of Corporación Fondo de Estabilización y Garantía de Cooperativas de Ahorro y Crédito de Panamá, R.L. (COFEP) to establish credit union regulation. The visit grew out of the organizations' international partnership through World Council of Credit Unions.
At the start of their partnership activities two years ago, World Council, COFEP and ICUL identified the lack of credit union-specific regulation as the main weakness of Panama's credit union system. In the partnership's fourth face-to-face partnership exchange in two years, ICUL's Pat Jury, president and CEO, Murray Williams, vice president, Justin Hupfer, vice president of governmental affairs and internal counsel, Mark Kilian, CEO of Community Lenders, and Pat Drennen, ICUL board director and general manager of 1st Gateway Credit Union, sought to directly assist COFEP in pushing for specific credit union regulation.

Pat Jury speaks at the conference while Pat Drennan looks on.
During their weeklong visit, the ICUL group visited four credit unions and met with government officials and COFEP executives. The week's activities culminated in a day-long conference on credit union best practices, in which over 100 credit union staff and board members attended. Panama's regulator was also at the conference.
At the event, Jury shared ICUL's experience in developing its network of services; Drennen spoke about specialized supervision and savings mobilization; Kilian explained how credit unions could support community projects; Hupfer imparted lobbying strategies; and Williams discussed how to effect positive change in the credit union. World Council's Dave Grace, senior manager of association services, also explained what the Basel Accord meant to credit union regulation and how it could be applied in Panama. Victor Corro, international partnerships manager, explained the benefits of international credit union partnerships and facilitated a planning meeting for future activities among World Council, COFEP and ICUL.
"For the great majority, a relatively new topic like lobbying or lobbying to achieve positive things for the credit unions was interesting," said Jacinto Villarreal, CEO of COFEP. "The topic of regulation was also important, considering that the fact that Panama still doesn't have special regulation for credit unions is a concern for many people."
Drennan said a hurdle they have had to overcome in the partnership is convincing their counterparts that lobbying is a good thing.
"The issue of…lobbying is kind of foreign in Panama because the mindset is that if you're talking to a government official, you're bribing them," he explained. ICUL has worked with credit union leaders in Panama to educate them on lobbying activities and promoting the industry as a safe and trustful partner.
In a symbolic gesture at the end of the conference, ICUL gave the director of human resources for the government of Panama, Arnulfo De León, a letter directed to the President. The letter expressed the need for credit union-specific regulation in Panama and World Council and ICUL's willingness to contribute their resources to make it a reality.
"In order to be heard, you need to speak," said Corro, explaining the reason and meaning of the letter. "The letter was one of the first lobbying efforts to get legislation passed in Panama."
De León, the highest ranked government official attending the conference, delivered the letter to the President's secretary, Martin Torrijos, on Monday.
World Council of Credit Unions is the global trade association and development agency for credit unions. World Council promotes the sustainable development of credit unions and other financial cooperatives around the world to empower people through access to high quality and affordable financial services. World Council advocates on behalf of the global credit union system before international organizations and works with national governments to improve legislation and regulation. Its technical assistance programs introduce new tools and technologies to strengthen credit unions' financial performance and increase their outreach.
World Council has implemented 300+ technical assistance programs in 89 countries. Worldwide, 68,882 credit unions in 109 countries serve 235 million people. Learn more about World Council's impact around the world at www.woccu.org.