Iowa CUs Serve the Underserved Through Remittances, Community Outreach
WOCCU Documents Best Hispanic Outreach Practices
May 06, 2010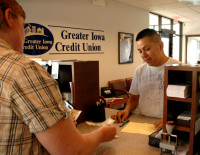 GICU hired bilingual staff to better serve the Hispanic community. Here, teller Kristie Hollingsworth assists José A. Ayala with sending money home. Photo by Michael Adams.

MADISON, Wis. — With Mother's Day around the corner, money transfer agents across the United States are experiencing the single busiest holiday of the year, as Latin Americans working abroad send larger amounts of money home to family members. Ready to help their remittance-sending communities amid the bustle are three Iowa credit unions, money transfer agents through World Council of Credit Unions' (WOCCU) International Remittances Network (IRnet®). The institutions developed their Hispanic outreach strategies through WOCCU's Credit Union Remittances Outreach Program (CUROP) and recently documented their guidelines and best-practice recommendations in a 32-page report, Reaching the Hispanic Market through Remittances.
With funding from the U.S. Agency for International Development, WOCCU designed the one-year CUROP program to develop and implement a community outreach plan for membership extension and expansion to remittance-sending, underserved populations. Iowa became the program's focus thanks to its burgeoning Hispanic population, drawn in part by the state's large agricultural economy.
Together with the Iowa Credit Union League (ICUL) and Coopera Consulting, an ICUL subsidiary, WOCCU selected three Iowa credit unions to participate in the pilot initiative: The Family Credit Union (FCU), Davenport; Greater Iowa Credit Union (GICU), Ames; and Village Credit Union (VCU), Des Moines. The institutions developed remittance-based community outreach activities through CUROP to attract Hispanic members.
"By participating in the CUROP program, we wanted to bring our members the resources they needed to better serve underserved communities, particularly the fast-growing Hispanic population," said Patrick S. Jury, ICUL president and CEO. "We also wanted to help create a remittance outreach model that could be replicated and adapted by credit unions throughout the nation seeking to better serve the Hispanic community."
Initial results showed that two of the three CUROP credit unions experienced higher volumes of remittance transactions during the program's first 12 months than a sample average of 21 other credit unions offering remittances through IRnet. Besides adding remittances to their menu of services, the credit unions benefitted by cross-selling products and services to remittance senders, modifying membership criteria, focusing on community outreach and hiring bilingual staff.
"By actively engaging with the Hispanic community, CUROP credit unions learned how to best tailor their services, and the community gained access to a host of financial services beyond remittances," said Brian Branch, WOCCU executive vice president and COO. "With ICUL and Coopera's expertise, these credit unions became shining examples of what is possible with dedication, planning, marketing and follow-through."
In addition to improving remittance volumes, the three institutions achieved a greater breadth of outreach, increasing membership as well as credit union assets. Since the program officially ended in March 2009, all three have continued to use remittances to expand Hispanic membership and have experienced further remittance volume growth.
"Offering remittance services through IRnet is a great way to serve the Hispanic community, but the service itself doesn't do outreach for you," said Deb Whittie, VCU CEO. "It was our partnership with Coopera and hiring someone to do Hispanic member outreach full-time that really enabled us to build our Hispanic membership."
Reaching the Hispanic Market through Remittances details the CUROP credit unions' experiences and guiding principles to attract Hispanic membership through remittances, including building strong internal commitments, developing a proper business plan, tailoring marketing efforts towards Hispanic members and tracking results. The report, available at www.woccu.org/publications/researchpub, includes a sample business plan and tracking worksheets.
WOCCU established IRnet in 2000 to provide credit unions access to safe and affordable money transfer services to reach emerging markets and immigrant populations. WOCCU is now working with the Texas Credit Union League to pilot an alternative remittance program, which will further expand the number of remittance providers for U.S. credit unions and foster competition to lower prices among firms and to benefit members.
For credit unions interested in other ways of deepening their knowledge of Hispanic marketing outreach, WOCCU's Spanish Immersion Program provides credit union and association professionals one- and two-week opportunities to live with host families, attend an intensive Spanish language course and work at local credit unions in Costa Rica. Apply by June 30 to receive a US$100 discount on the October program registration. For details, visit www.woccu.org/sip.
World Council of Credit Unions is the global trade association and development agency for credit unions. World Council promotes the sustainable development of credit unions and other financial cooperatives around the world to empower people through access to high quality and affordable financial services. World Council advocates on behalf of the global credit union system before international organizations and works with national governments to improve legislation and regulation. Its technical assistance programs introduce new tools and technologies to strengthen credit unions' financial performance and increase their outreach.
World Council has implemented 300+ technical assistance programs in 89 countries. Worldwide, 68,882 credit unions in 109 countries serve 235 million people. Learn more about World Council's impact around the world at www.woccu.org.
NOTE: Click on photos to view/download in high resolution.