Ireland's Jim McMahon Wins WOCCU Distinguished Service Award
Two Ambassador Award winners, five young CU leaders also honored
July 29, 2011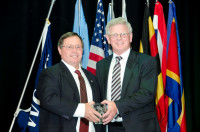 WOCCU Director Ron Hance presents the international credit union movement's highest honor to Jim McMahon, Irish League of Credit Unions.

GLASGOW, Scotland — Social involvement advocate Jim McMahon, an Irish League of Credit Unions (ILCU) board member, was honored with World Council of Credit Unions' (WOCCU) Distinguished Service Award, the international credit union movement's top honor. McMahon's award was presented along with two WOCCU Ambassador Awards and five WOCCU Young Credit Union People (WYCUP) scholarships during the closing ceremonies of the World Credit Union Conference Wednesday.
A retired educator and school administrator, McMahon joined Clones Credit Union in 1961 and by 1968 had been elected to its board of directors. He has represented credit unions throughout Europe, working with European Union officials during the introduction of the euro currency and on issues involving consumer credit. McMahon is a former WOCCU director and also has been a consultant to the European Association of Co-operative Banks, the International Co-operative Banking Association (ICBA) and the ICBA European Regional Committee. He most recently has returned to serving as treasurer of Clones Credit Union.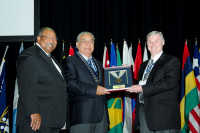 Servus Credit Union CEO Garth Warner (right) accepts the Ambassador Award from WOCCU President and CEO Pete Crear and WOCCU Chair Manuel Rabines on behalf of his credit union.
"I regard this as one of the greatest honors that could be bestowed on me," McMahon said upon accepting the honor. "I urge you all to keep the credit union flag flying wherever you go."
This year's WOCCU Ambassador Awards recognized both a credit union from Canada and a volunteer from Scotland. Servus Credit Union from Edmonton, Alberta, received the award for its long-standing support of WOCCU and its conference. For the past four years, Servus has included the World Credit Union Conference in its employee incentive program, sending between 50 and 75 participants to the conference each year. Servus CEO Garth Warner accepted the award.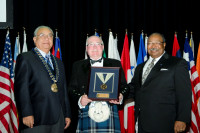 John Cormack (center) from Capital Credit Union (Edinburgh, Scotland), receives the Ambassador award from WOCCU's Rabines and Crear.
John Cormack, board president for Capital Credit Union in nearby Edinburgh, Scotland, also received the Ambassador Award for his longtime support of WOCCU and the World Credit Union Conference. Both Warner and Cormack, who will soon retire, accepted the award from outgoing WOCCU President and CEO Pete Crear.
WOCCU also honored five young credit people with WYCUP scholarships, which will enable them to attend next year's World Credit Union Conference in Gdańsk, Poland, at no cost. The 2011 WYCUP honorees were: Yola Charles, Trinidad & Tobago; Michelle Coelho, Australia; Marcy Lovberg, Canada; Edel McKenna, Ireland; and Tracia Pounder, Barbados.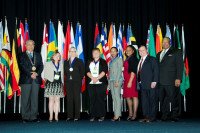 Rabines, Hance and Crear present WYCUP winners (left to right) Edel McKenna (Ireland), Michelle Coehlo (Australia), Marcy Lovberg (Canada), Tracia Pounder (Barbados) and Yola Charles (Trinidad & Tobago).

Other awards presented earlier in the week at the WOCCU annual general meeting honored outgoing WOCCU President and CEO Pete Crear and WOCCU First Vice Chair Grzegorz Bierecki.
Neville Parsons, a former WOCCU director from Australia and a Rotary Club member, recognized Crear as a Paul Harris Fellow, Rotary's highest honor named after the international organization's founder. Paul Armbruster, head of Germany's International Raiffeisen Union, also presented Crear with the Raiffeisen Medal for his years of service to the global cooperative movement.
The Ukrainian Orthodox Church honored Bierecki, president and CEO of the National Association of Cooperative Savings and Credit Unions (NACSCU), Poland's credit union trade association, for NACSCU's work developing credit unions in the former Soviet satellite country. Vladimir Sidorowski presented Bierecki with a medal representing the award.
"I am honored by the award and very happy to see the continued development of credit unions in Ukraine," Bierecki said.
WOCCU's World Credit Union Conference ended July 27 with a celebration of the organization's 40th anniversary and a farewell to Crear.
World Council of Credit Unions is the global trade association and development agency for credit unions. World Council promotes the sustainable development of credit unions and other financial cooperatives around the world to empower people through access to high quality and affordable financial services. World Council advocates on behalf of the global credit union system before international organizations and works with national governments to improve legislation and regulation. Its technical assistance programs introduce new tools and technologies to strengthen credit unions' financial performance and increase their outreach.
World Council has implemented 300+ technical assistance programs in 89 countries. Worldwide, 68,882 credit unions in 109 countries serve 235 million people. Learn more about World Council's impact around the world at www.woccu.org.
NOTE: Click on photos to view/download in high resolution.