Irish Credit Unions Gain Access to Provide Electronic Payment Services
World Council board visits Irish league to understand nation's CU challenges
November 11, 2013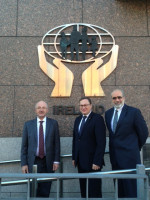 World Council of Credit Unions representatives, including (left to right) Brian McCrory, director; Grzegorz Bierecki, chair; and Brian Branch, president and CEO, met with the Irish League of Credit Unions at their headquarters in Dublin last Friday to gain a better understanding of the Irish system.  
DUBLIN — Irish credit unions recently gained access to provide electronic payment services through a license granted by the Central Bank of Ireland to the Credit Union Service Organisation for Payments. The new service will allow credit union members nationwide to electronically transfer payments from a bank, employer or social welfare office directly into their credit union account.
"The recent exit of multiple international banks from the Irish financial services sector means that there is a greater scope for Ireland's credit unions to offer a vital link between the Irish public and accessible, community-based financial services," said World Council President and CEO Brian Branch during a visit last week to the Irish League of Credit Unions (ILCU), a World Council member. "A payments license will allow credit unions to begin to put a realistic not-for-profit alternative in place."
Branch and World Council's board of directors met with ILCU's Kieron Brennan, CEO; Brian McCrory, director; and the ILCU board of directors to learn about challenges facing the nation's credit unions and the significant impact of an electronic payments service on members' ability to manage their current and future finances.
"We believe that reforming our payments system will provide cost competitiveness, greater security and convenience for 3.1 million credit union members nationwide," Brennan said.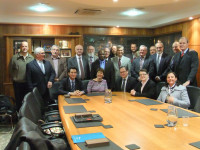 The World Council delegation visited Dundrum Credit Union for a presentation from their executive committee. 
Since the hit of Ireland's historical recession in 2008, ILCU and credit unions around the country have faced economic difficulties, yet have remained a coherent social and economic force in society. During this period, membership has grown steadily, which is partially due to increased access to loans. As of 2012, Ireland had 487 credit unions serving 3.2 million members, according to World Council's most recent statistical report. A recent study by ILCU shows that consumers' confidence in credit unions is on the rise. To learn more about issues affecting the local sector, the World Council delegation also visited Dundrum Credit Union in Dublin.
Consumer demand for access to credit union services through multiple channels continues to be a major challenge faced by World Council members and credit unions around the world. To learn more about World Council membership, visit www.woccu.org/membership.
World Council of Credit Unions is the global trade association and development agency for credit unions. World Council promotes the sustainable development of credit unions and other financial cooperatives around the world to empower people through access to high quality and affordable financial services. World Council advocates on behalf of the global credit union system before international organizations and works with national governments to improve legislation and regulation. Its technical assistance programs introduce new tools and technologies to strengthen credit unions' financial performance and increase their outreach.
World Council has implemented 300+ technical assistance programs in 89 countries. Worldwide, 68,882 credit unions in 109 countries serve 235 million people. Learn more about World Council's impact around the world at www.woccu.org.