Kaczynski, May and CUES Receive Distinguished Service Award
Honorees Among Many Recognized at Conference Closing Ceremony
July 15, 2010
LAS VEGAS — Lech Kaczyński, the recently deceased president of Poland who was central in helping establish the country's credit union movement; Harriet May, the newly named chair of Credit Union National Association (CUNA); and CUES, the Madison, Wis.-based professional development organization for credit union executives, were named recipients of World Council of Credit Unions' (WOCCU) Distinguished Service Award (DSA), the global trade association's highest honor. The DSA recipients were among many honorees recognized during the closing ceremonies of The 1 Credit Union Conference, the meeting jointly sponsored by CUNA and WOCCU.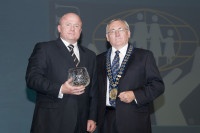 Kaczyński's relationship with credit unions first began in 1989 when he was a direct report to Lech Walesa, the former leader of Poland's Solidarity movement that helped secure the country's freedom from Soviet rule. In 1991, WOCCU officials met with members of Solidarity, including Walesa and Kaczyński, the Ministry of Finance and the Catholic Church to examine the role that credit unions could play in helping Poland's financial services development. Kaczyński served as supervisory board president of the Foundation for Polish Cooperative Savings and Credit Unions created by WOCCU at the request of the Solidarity movement. Since then Kaczyński, who was a professor of law prior to his political involvement, had been committed to developing and strengthening Poland's financial cooperative movement.
"The president wanted nothing more than a dignified life for every person in a free country," said Jarosław Stawiarski, member of Poland's parliament, who accepted the award on the late President Kaczynski's behalf. "The spirit and support of credit unions will continue as if the president were still with us."
CUNA Chair May, who is also president and CEO of GECU of El Paso, Texas, spent her career in credit unions, part of which has been dedicated to helping financial cooperatives work beyond state and national borders to meet the needs of members worldwide. In the 1990s she was instrumental in helping WOCCU develop and launch IRnet®, its international remittance program enabling workers in the U.S. to cost-effectively send money through a network of credit unions. She also has worked to extend the influence and service of the Texas Credit Union League by initiating the league's formal Texas/Mexico CU Relationship Committee in 1999.
"We're not an island unto ourselves, something I realized as I reached out to our neighbor to the south, working in ways that impacted my government, my community and my country," said May. "If I have been one drop in the sea that lifts the life of one individual, then I have been successful."
CUES, the 2010 institutional honoree, has been educating and serving international credit union leaders since 1962, and financially supporting WOCCU's development and relief initiatives for two decades. The organization in 1990 pledged $10,000 to support credit union development in Eastern Europe, became an inaugural WOCCU Supporter in 2000 and continues to support WOCCU's goals and objectives on an annual basis. In 2005, CUES donated $100,000 to help rebuild credit unions in Sri Lanka that were devastated by the tsunami. Earlier this year the organization donated $15,000 to WOCCU's Haiti Relief Efforts.
"The only thing that bothers me about WOCCU is that it doesn't get the credit it deserves," said Fred Johnson, CUES' president and CEO. "We're damn lucky to have WOCCU, and we'll support you in any way we can."
Credit Union Magazine's Hero of the Year Award was presented to Vic Thate, executive vice president of FAA Credit Union in Oklahoma City, Okla. CUNA's flagship publication honored Thate for his work on behalf of the Children's Miracle Network in Texas and Oklahoma, efforts that earned him the nickname of "godfather" of Oklahoma's Credit Unions for Kids.
WOCCU also presented three Ambassador Awards, honors given for outstanding service either to the global trade association or the global credit union movement. This year's Ambassador Award recipients included Mark Sievewright, senior vice president of Fiserv, Inc., honored for helping credit unions better understand and capitalize on their market strengths; Sue Albrecht, vice president of CUNA Mutual Group, for her tireless service to the global credit union movement; and Sue Mitchell, CEO of Mitchell, Stankovic & Associates, for her efforts in helping develop and establish WOCCU's Global Women's Leadership Network.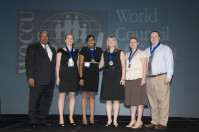 Also honored during the ceremonies were 33 nominees from 15 countries in the WOCCU Young Credit Union People (WYCUP) program. Of those honorees, the following five received scholarships: Scott Daukas, United States; Carol Karugu, Kenya; Melia Keller, United States; Orla O'Shea, Ireland; and Christie-Anne Scott, Australia. Each recipient will receive an all-expenses-paid trip to attend the WYCUP 2011 program and WOCCU's World Credit Union Conference in Glasgow, Scotland, next July.
In a special presentation, recognition was given to major donors to WOCCU's Haiti Relief Fund, which raised $1.1 million earlier this year to benefit survivors and rebuild credit unions in the wake of the January 12 disaster. Major donors included the Caribbean Confederation of Credit Unions, CUNA, CUNA Mutual Group, the Irish League of Credit Unions Foundation, Melrose Credit Union, Municipal Credit Union, the National Credit Union Foundation (NCUF) and Schools First Federal Credit Union. Representatives from each organization were invited to the stage to receive a special award from Greta Greathouse, who runs WOCCU's program in Haiti.
In addition, members of NCUF's Development Educator program who had earned their International Credit Union Development Educator designation were also recognized during the ceremony. Recipients included Carlos Calderone, Jaime Chase, Mike Delker, Ken Halkett, Nancy Johns, Bill Myers, Michael Ray, Helen Godfrey Smith, Joe Thomas, Joanne Todd, Donald Urquhart, Linda Webb-Manon and Debbie Wege.
The 1 Credit Union Conference was a one-time joint event. In 2011, CUNA will host its America's Credit Union Conference in San Antonio, Texas from June 19-22 and WOCCU will host its World Credit Union Conference in Glasgow, Scotland from July 24-27.
World Council of Credit Unions is the global trade association and development platform for credit unions. World Council promotes the sustainable development of credit unions and other financial cooperatives around the world to empower people through access to high quality and affordable financial services. World Council advocates on behalf of the global credit union system before international organizations and works with national governments to improve legislation and regulation. Its technical assistance programs introduce new tools and technologies to strengthen credit unions' financial performance and increase their outreach.
World Council has implemented 300+ technical assistance programs in 89 countries. Worldwide, 89,026 credit unions in 117 countries serve 260 million people. Learn more about World Council's impact around the world at www.woccu.org.