Keller Embodies WOCCU's WYCUP Scholarship Program Spirit
Nominations for the 2012 Scholarships due by June 14
March 18, 2011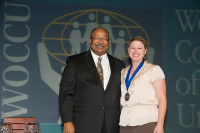 Melia Keller accepts WYCUP award from WOCCU president and CEO Pete Crear. Nominations for the 2012 WYCUP award are due June 1
MADISON, Wis. — Despite her young age, Melia Keller, CEO of Mid-Cities Financial Credit Union in Compton, Calif., USA, and a 2010 winner of World Council of Credit Unions' (WOCCU) Young Credit Union People (WYCUP) Scholarship Program, has already made a significant impact in the credit union industry.
Keller started her credit union career at 19 as a teller and by 34 had worked her way up to CEO. Her accomplishments include launching successful youth programs to help teach children and teens about personal finance, creating financial workshops for those affected by hardships and layoffs, and last year being named a WYCUP winner.
"WYCUP was a great opportunity to network with other young people from all over the world," Keller said. "It's very interesting to see how my counterparts in other countries are addressing their problems and then finding solutions together."
WYCUP nominations are now being accepted for the 2012 program for individuals under the age of 35 who have made significant contributions within their own credit union system — locally, regionally or nationally. The deadline for all nominations is June 14.
Winners will be announced at this year's World Credit Union Conference, July 24-27 in Glasgow, Scotland, where five nominees will receive an all-expense-paid trip to the 2012 World Credit Union Conference in Gdansk, Poland.

"The WYCUP Scholarship Program is a way for WOCCU to engage the next generation of credit union professionals and volunteers who already are making important contributions to the movement," said Pete Crear, WOCCU president and CEO. "Melia is a great example of that initiative because she embodies the credit union movement and inspires others to make a difference."
Keller not only works in the industry, but she promotes credit unions in every aspect of her life, including during time served in Iraq. As a member of the United States Army Special Operations forces she went village to village working with financial institutions to help rebuild and stimulate the local Iraqi economy. In addition, Keller helped fellow soldiers build their credit and published an award-winning book, In the Company of Soldiers, about her time in Iraq.
As the key to her success, Keller credits her board of directors at Mid-Cities Financial Credit Union. "I wouldn't be where I am today without my board of directors believing in me and giving me this chance," Keller said. "It's very progressive to hire someone so young and we need more boards and credit union leaders like that."
All WYCUP nominees will be formally recognized in Glasgow and invited to participate in events specifically organized for those age 35 and under. Conference attendees in this age group also qualify for a discounted registration fee regardless of whether or not they compete for a scholarship.
To be eligible for one of five WYCUP scholarships, nominees must: 1) submit a completed nomination form with all necessary supporting materials by June 14, 2011; 2) be 35 years of age or younger as of Jan. 1, 2011; and 3) attend WOCCU's 2011 World Credit Union Conference in Glasgow this July where winners will be announced.
For more information on the WYCUP Scholarship Program or to download a nomination form, visit www.woccu.org/wycup.

World Council of Credit Unions is the global trade association and development agency for credit unions. World Council promotes the sustainable development of credit unions and other financial cooperatives around the world to empower people through access to high quality and affordable financial services. World Council advocates on behalf of the global credit union system before international organizations and works with national governments to improve legislation and regulation. Its technical assistance programs introduce new tools and technologies to strengthen credit unions' financial performance and increase their outreach.
World Council has implemented 300+ technical assistance programs in 89 countries. Worldwide, 68,882 credit unions in 109 countries serve 235 million people. Learn more about World Council's impact around the world at www.woccu.org.
NOTE: Click on photos to view/download in high resolution.