Keynote Speakers Announced for 2012 Global Women's Leadership Forum
Global Women's Leadership Network tackles CU brand differentiation in Gdańsk, Poland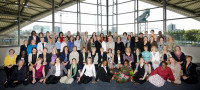 Attendees gathered in Glasgow, Scotland last summer for the 2011 Global Women's Leadership Forum.
MADISON, Wis. — Participants at this year's Global Women's Leadership Forum will tackle some of the most pressing issues facing credit unions today, including finding ways to better differentiate credit unions from their competition and giving attendees a greater understanding of international credit union development work.
On July 15, 2012, women credit union leaders from around the world will come together in Gdańsk, Poland, in conjunction with the World Credit Union Conference, to learn from branding expert Jiao Zhang, a partner with Attune, a marketing research and strategy firm that focuses on return on investment; and international development professional Gabriela Zapata, consultant for the Consultative Group to Assist the Poor.
During the forum, Zhang will explore how credit union can do a better job with brand differentiation and Zapata will provide an inside glimpse into the hot topics in international development and women's issues, specifically highlighting why the role of credit unions is so crucial to both developed and under-developed countries.
The Global Women's Leadership Forum, which serves as the Global Women's Leadership Network's flagship event, will also offer several opportunities for members to share ideas and learn from their counterparts in other credit union movements around the globe. Despite operating in vastly different environments, women in the network face many similar leadership challenges at their credit unions and together find insight and strategic solutions.
Prior to the event on July 14 the Worldwide Foundation for Credit Unions will host a charity golf tournament benefiting the Global Women's Leadership Network at the Sierra Golf Club in Petkowice, Poland, thanks to our presenting sponsor CO-OP Financial Services. Both men and women are eligible to compete.For more information, visit www.woccu.org/golf.
The Global Women's Leadership Network, co-founded by World Council of Credit Unions and the Canadian Co-operative Association (CCA), is designed to provide women the opportunity and resources to make a measureable difference in each other's lives, as well as in their credit unions and communities. The international network engages members with professional and personal development through social media and educational forums and provides the tools for women to connect and seek confidential advice from their peers.
Women credit union leaders and volunteers can sign up for membership at www.CUwomen.org. Credit unions, service organizations and vendors are also invited to join and may appoint two women leaders to represent their organization. To sign up for the forum, visit www.LetsGdansk2012.org or e-mail cuwomen@woccu.org for more ways to get involved.

El Consejo Mundial de Cooperativas de Ahorro y Crédito es la asociación gremial y agencia de desarrollo para el sistema internacional de cooperativas de ahorro y crédito. El Consejo Mundial promueve el crecimiento sustentable de las cooperativas de ahorro y crédito y otras cooperativas financieras en todo el mundo a fin de facultar a las personas para que mejoren su calidad de vida a través del acceso a servicios financieros asequibles y de alta calidad. El Consejo Mundial realiza esfuerzos de defensa activa en representación del sistema global de las cooperativas de ahorro y crédito ante organizaciones internacionales y trabaja con gobiernos nacionales para mejorar la legislación y la regulación. Sus programas de asistencia técnica introducen nuevas herramientas y tecnologías para fortalecer el desempeño financiero de las cooperativas de ahorro y crédito y profundizar su alcance comunitario.
El Consejo Mundial ha implementado 290 programas de asistencia técnica en 71 países. A nivel mundial, 57,000 cooperativas de ahorro y crédito en 105 países atienden a 217 millones de personas. Obtenga más información sobre el impacto global del Consejo Mundial en www.woccu.org.

NOTA: Oprima el botón del mouse sobre las fotografías para verlas/descargarlas en alta resolución.
Contacto principal:
Rebecca Carpenter
Organización:
World Council of Credit Unions
Correo electrónico:
rcarpenter@woccu.org
Teléfono:
+1-608-395-2031