Latin American Credit Unions Explore Consumer Behavior, Cybersecurity and Digital Channels
Regional workshop supports technological advancements throughout Latin America
May 25, 2017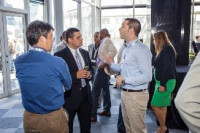 World Council's Latin American Regional workshop on technological growth strategies attracted participants from 15 countries throughout Latin America.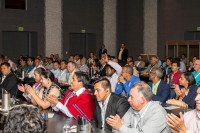 More than 130 credit unions and volunteers attend WOCCU's Latin American Regional Workshop in Panama City.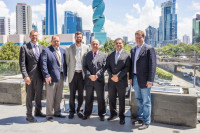 L to R: Thomas Belekevich, Todd Christensen, David Glod, Luis Jara, Victor Corro and Kirk Drake.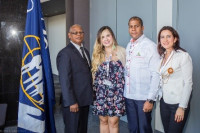 Workshop attendees from Colombia and the Dominican Republic.
Panama City, Panama — 130 credit union leaders from Latin America and the Caribbean convened last week for a regional workshop in Panama City, Panama, to explore trends in consumer behavior affecting the financial space and develop strategies for improving member service.
"Understanding the customer journey is crucial to staying relevant. When credit unions design products, all pain points and friction for the member should be eliminated," said Victor Corro, World Council Vice President of Member Services. Corro emphasized a need for credit unions to incorporate and leverage technological advances with strategies that include appropriate risk management and an evaluation of their effectiveness when compared to newly developed digital and physical channels within the industry.

In addition, Corro called upon Latin American credit unions to establish stronger member relationships by integrating available technologies. By better understanding these trends in consumer characteristics, attitudes and behaviors, credit unions can improve their communication strategies and build greater confidence, loyalty and trust - which are crucial.
Workshop speakers included Kirk Drake, President and CEO of Ongoing Operations, who shared new tactics on cybersecurity, including research suggesting that many individuals lack knowledge of how critical IT operations function. The journey from strategy to implementation in cybersecurity was the focus a presentation by David Glod, Vice President of Information Security at Mountain America Federal Credit Union. Glod shared insights to help participants focus their efforts, avoid common mistakes and determine the most effective use of limited resources. Anti-money laundering efforts complemented these themes in a presentation by Carlos Calderón, President and CEO of OAS Staff Federal Credit Union, who shared how best practices in AML guide his credit union's international operations.
Todd Christensen, Executive Vice President of Marketing and Development at CapEd Federal Credit Union explored marketing strategies in the digital age. Christensen shared the success of CapEd's initiatives to expand financial education services to members and highlighted the value of financial knowledge in today's industry. By integrating these efforts with a solid Foundation, CapEd has invested more than $350,000 to aid financial educators, students, and families nationwide.
Upon reflection, Christensen noted that "It was great to gather as credit unions from various backgrounds, countries and asset sizes to learn and be better prepared for the future. The more we come together as the global credit union movement, the more we realize our challenges are global. As credit unions, we all have work to do to improve our communications to our members and community on our important value. Value of working together to help each other – the bedrock principals of credit unions. Credit unions are the "original" peer-to-peer lenders or crowdsource community."
World Council of Credit Unions is the global trade association and development platform for credit unions. World Council promotes the sustainable development of credit unions and other financial cooperatives around the world to empower people through access to high quality and affordable financial services. World Council advocates on behalf of the global credit union system before international organizations and works with national governments to improve legislation and regulation. Its technical assistance programs introduce new tools and technologies to strengthen credit unions' financial performance and increase their outreach.
World Council has implemented 300+ technical assistance programs in 89 countries. Worldwide, 89,026 credit unions in 117 countries serve 260 million people. Learn more about World Council's impact around the world at www.woccu.org.