Li: Credit Union Social Business Strategies All About Relationships
World Credit Union Conference speaker stresses social media planning for future, starting now
July 17, 2013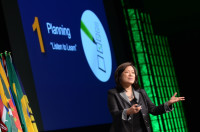 "Social media is going to exist whether credit unions choose to be there or not, making engagement the only way to sway negative comments," social media and technologies expert Charlene Li told Tuesday's general session audience, emphasizing that social media engagement for business begins with strategic planning.

OTTAWA, Canada — Growing numbers of credit unions and financial institutions have experimented in social technologies, but few have incorporated them into long-term social business plans that strategically engage their members and employees. According to Charlene Li, social media and technologies expert and Tuesday's general session speaker at World Council of Credit Unions' 2013 World Credit Union Conference, a successful social business strategy requires more than just the latest technologies.
"It's really about how you form a relationship. Credit unions have a very special relationship with their members that is very unique and heartfelt in their communities," said Li, founder of Altimeter Group and best-selling author of Groundswell and Open Leadership. "You see people in your branches, online, on your websites and on mobile phones. Soon you will see these people on your social media channels as well."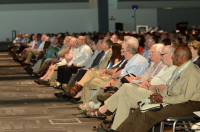 "Business is social. Social is relationships," Li told another packed general session room at the World Credit Union Conference.
With today's global social media penetration at more than 50% and growing across every demographic, credit unions have an opportunity to reach and form relationships with their entire member base. Li said organizations must create a social strategy that connects back to their business goals, or they are destined to fail.
"If you don't know why you're using these, you should probably stop and really sit back and think, 'What is it I'm doing with my credit union? Why do I have these technologies? How do they tie back to our business goals?'" Li said.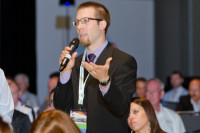 During the audience question and answer in Tuesday's general session, Ben Janzen, stewardship in action advisor for Mennonite Savings and Credit Union (Canada), asked Li for advice on how credit unions can maximize their social media efforts during business hours.
Before any organization begins strategizing a social media plan, they must embark on what Li calls a "journey" through consecutive phases starting with planning. By laying a foundation for the future, credit unions can evolve to reach convergence — when their social efforts align with their business objectives. Li recommended credit unions start by defining and prioritizing their top three-to-four long-term business goals over the next couple years, then decide how social media can help achieve them.
"Tools and technologies will come and go. Your strategy has to stand the test of time," Li said.
The day continued with breakout sessions on payment systems, limiting regulatory burdens and consumer trends. A special breakout session on building the credit union brand featured global participants from a workshop organized by and held at World Council's headquarters in May. Presenters shared their experiences and workshop results on credit union strategies to reach Gen Y through social media. The highly attended session drew approximately 400 participants, 50 of whom were without seats — including Charlene Li.
Attendees have been sharing what they are learning throughout the conference on Twitter using the conference hashtag (#WCUC2013). Some highlights from yesterday's general session included:
More than 180 attendees spent the evening visiting one of seven credit unions throughout Ottawa. The sold-out tours included visits to Alterna Savings and Credit Union Ltd., Buduchnist Credit Union Ltd., Caisse populaire Rideau-Vision d'Ottawa, Frontline Financial Credit Union, Meridian Credit Union, Ottawa Women's Credit Union and Your Credit Union.
The 2013 World Credit Union Conference runs through July 17 in Ottawa, Canada. Wednesday's events include a closing general session presentation by Start with Why: How Great Leaders Inspire Everyone to Take Action author Simon Sinek, World Council's annual awards ceremony and a closing night reception at the state-of-the-art Canadian Museum of Civilization.
Follow and engage in conference activities, including daily event photos, on World Council's Facebook and Twitter pages at www.facebook.com/WOCCU and www.twitter.com/WOCCU using #WCUC2013.
World Council of Credit Unions is the global trade association and development agency for credit unions. World Council promotes the sustainable development of credit unions and other financial cooperatives around the world to empower people through access to high quality and affordable financial services. World Council advocates on behalf of the global credit union system before international organizations and works with national governments to improve legislation and regulation. Its technical assistance programs introduce new tools and technologies to strengthen credit unions' financial performance and increase their outreach.
World Council has implemented 300+ technical assistance programs in 89 countries. Worldwide, 68,882 credit unions in 109 countries serve 235 million people. Learn more about World Council's impact around the world at www.woccu.org.
NOTE: Click on photos to view/download in high resolution.