Malawi Credit Unions Tackle New Regulatory Compliance Challenges
Top Malawi officials ask for rural expansion to build savings and achieve financial inclusion
June 03, 2013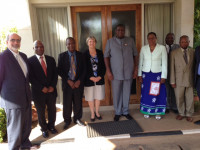 A group of credit union representatives met with the vice president of Malawi in Lilongwe last week to discuss credit union expansion to rural areas. Representatives included (left to right) World Council President and CEO Brian Branch; World Council Director and MUSCCO Chief Executive Sylvester Kadzola; Ghana Co-operative Credit Unions Association Ltd. General Manager Emmanuel Darko; Canadian Cooperative Association Africa Region Director Ingrid Fischer; Malawi Vice President Khumbo Hastings Kachali; MUSCCO Chair Faith Mang'anda; Registrar of Cooperatives Charles Kayesa; and Principal Secretary Ministry of Industry & Trade Alex Gomani.
LILONGWE, Malawi — Malawi's credit unions, known as savings and credit cooperatives (SACCOs) have taken on new compliance challenges since the country's Financial Cooperatives Bill in 2011 led to a new regulatory framework in April this year. World Council of Credit Unions and Malawi Union of Savings & Credit Co-operatives (MUSCCO) representatives met with state officials in Lilongwe, Malawi, last week to discuss the challenges and opportunities to expand credit union services to rural areas in an effort to achieve broad-based financial inclusion.
Brian Branch, World Council president and CEO, traveled to Malawi to join World Council Director Sylvester Kadzola, chief executive of Malawi Union of Savings & Credit Co-operatives (MUSCCO), a World Council member organization, in a meeting with Malawi Vice President Khumbo Hastings Kachali and Reserve Bank of Malawi Governor Charles Chuka.
"New regulatory forums and structures under new 2012 regulatory framework reflect an increase in regulatory compliance for credit union systems everywhere around the world," Branch said. "National regulatory bodies are working to bring up to international standards the supervision of all institutions that take savings."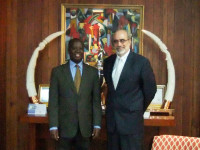 Reserve Bank of Malawi Governor Charles Chuka (left) stressed strong leadership and good governance practices among Malawi's SACCOs to World Council's Brian Branch (right). 
During the meeting, Kachali asked for the expansion of SACCO services to rural areas, and Chuka encouraged MUSCCO to work on strengthening leadership and good governance practices among SACCOs. Kadzola also pointed out the importance of SACCOs in achieving broad-based financial inclusion and building a strong savings base for the country.
The Reserve Bank of Malawi, which acts as the SACCO regulator and supervisor, issued new regulations in April 2012. Supervision for SACCOs with assets less than US$280,000 was delegated to MUSCCO in liaison with the Reserve Bank.
MUSCCO has since instituted regular reporting and examination systems to monitor credit union performance. The new regulatory framework also puts into place a national identification system and credit bureau in which the SACCOs will participate.
SACCOs were first introduced in Malawi in the early 1970s by the Roman Catholic Church. Today there are 46 SACCOs serving 123,540 members with total assets of approximately US$21 million.
World Council of Credit Unions is the global trade association and development agency for credit unions. World Council promotes the sustainable development of credit unions and other financial cooperatives around the world to empower people through access to high quality and affordable financial services. World Council advocates on behalf of the global credit union system before international organizations and works with national governments to improve legislation and regulation. Its technical assistance programs introduce new tools and technologies to strengthen credit unions' financial performance and increase their outreach.
World Council has implemented 300+ technical assistance programs in 89 countries. Worldwide, 68,882 credit unions in 109 countries serve 235 million people. Learn more about World Council's impact around the world at www.woccu.org.