Membership Growth Drives US-Mexico Partnerships Going Forward
May 13, 2007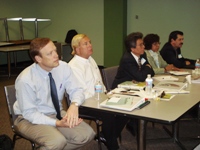 (l-r): Bill Cheney, California CU League President/CEO, Dick Ensweiler, Texas CU League President/CEO, Cirilo Rivera Rivera, Executive VP, Josefina Cerda Moreno, Board Member, and Ramón Imperial Zúñiga, Caja Popular Mexicana President/CEO.
Madison, WI—In an unprecedented gathering, the leaders of World Council of Credit Unions' (WOCCU) four US credit union league—Mexican caja partnerships convened recently to create a common strategy to promote membership growth in credit unions on both sides of the border.
Through WOCCU's international partnership program, US credit union leagues partner with national associations and large credit unions abroad to build cross border relationships and share technologies. The California and Nevada Credit Union League and Texas Credit Union League partnered with Caja Popular Mexicana in 2002, the Arizona Credit Union System partnered with Caja Libertad in 2004 and the New Mexico Credit Union Association partnered with Caja Alianza in 2005. The North Carolina Credit Union League is in the initial stages of partnering with Caja Morelia Valladolid.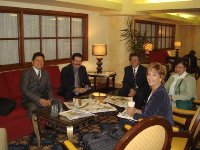 (l-r): Tomás Carrizales, Federación Alianza President/CEO, Imperial Zúñiga, Rivera Rivera, Moreno and Sylvia Lyon, New Mexico CU Association President/CEO.
Leaders from the eight partner organizations gathered in Ontario, California recently to devise a common strategy that will build on their partnerships to encourage membership growth. Bill Cheney, President/CEO of the California and Nevada Credit Union League, Dick Ensweiler President/CEO of the Texas Credit Union League, Sylvia Lyon, President/CEO of the New Mexico Credit Union League, Pat Bodnar, Chief Operating Officer of the Arizona Credit Union League, and John Radebaugh, President/CEO of the North Carolina Credit Union League, met with the leaders from their respective partners, including Ramón Imperial Zúñiga, President/CEO, and Cirilo Rivera Rivera, Executive Vice President, Caja Popular Mexicana; Juan Pablo Rangel, President/CEO and Paolo Lezama, Vice President of Operations, Caja Libertad; Tomás Carrizales, President/CEO of Federación Alianza; and Juan Manuel Juárez, President/CEO of Caja Morelia Vallioladad.
Carlos Calderón, CEO of OAS Federal Credit Union, facilitated the main strategy session, in which the partners set out four broad areas for action:
Enhanced service delivery channels: card services, international shared branching and international remittances
Cross border internships to promote technical exchanges
Marketing and service to Hispanic communities in the United States
Cross selling the credit union difference across borders
The cajas highlighted that they are growing membership at an average of 18% annually. Yet, César Izurieta, Vice President of Marketing and Member Services at Caja Libertad, reminded participants that more than 60 million people remain unbanked in Mexico. Enhanced service delivery channels will enable the cajas to better reach this market and continue their double-digit growth.
Ramón Imperial Zúñiga, President/CEO of Mexico's largest credit union, noted that, "the caja sector recognizes the power of collaboration in creating the technologies and transaction volume that will allow for new cross-border delivery channels. By working together, we can provide hardworking Mexicans in Mexico and in the United States with access to affordable financial services."
The partnerships benefit credit unions in both countries. According to Bill Cheney, "Credit unions in California and Nevada, indeed across the United States, are looking for new markets to drive membership growth. Caja Popular Mexicana and the other Mexican cajas are helping us to better understand and serve the growing Mexican market on this side of the border."
Building on the success of the US league— Mexican caja partnerships, WOCCU is launching a new Hispanic Marketing Immersion Program. This program will encourage membership growth in the United States by equipping participants with the critical skills and knowledge they need to reach the growing Hispanic market.
As US credit unions reach larger numbers of Mexican members, they will eventually create the transaction volume for a successful international shared branching network among the US and Mexican partner credit unions.
The immersion program includes three main components: cultural exposure through home stays with Mexican host families, customized Spanish classes and hands-on internships and marketing workshops at partner credit union branches.
The first immersion session will take place in the cities of Queretaro and Guanajuato, Mexico, September 15-30, 2007. The deadline for registration is July 31, 2007. Visit www.woccu.org/meetings or contact Victor Corro, International Partnerships manager, at vcorro@woccu.org , for more information.
World Council of Credit Unions is the global trade association and development agency for credit unions. World Council promotes the sustainable development of credit unions and other financial cooperatives around the world to empower people through access to high quality and affordable financial services. World Council advocates on behalf of the global credit union system before international organizations and works with national governments to improve legislation and regulation. Its technical assistance programs introduce new tools and technologies to strengthen credit unions' financial performance and increase their outreach.
World Council has implemented 300+ technical assistance programs in 89 countries. Worldwide, 68,882 credit unions in 109 countries serve 235 million people. Learn more about World Council's impact around the world at www.woccu.org.