Microsavings Takes Center Stage at Rural Microfinance Conference
October 01, 2009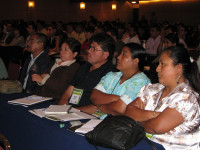 The general manager and board members from Caja Zongolica credit union, located in the mountains of Veracruz state, attend a session on "Creating Opportunities for Rural Areas" by Margarito Saavedra, general manager of Caja Yanga credit union.
MEXICO CITY, Mexico-—More than 500 people from across Mexico and six other countries came together this week in Mexico City to learn how credit unions here are sustainably serving the rural poor and how other credit unions can do the same. World Council of Credit Unions (WOCCU) and the Proyecto de Asistencia Técnica al Microfinanciamiento Rural (PATMIR) project of the Mexican Ministry of Agriculture, Livestock, Rural Development, Fishing and Food (SAGARPA), which funds WOCCU's development program in Mexico, co-hosted the two-day event on Rural Microfinance: Strategies for Reaching the Rural Poor.
During his presentation on Wednesday, Luis Jara, project director for WOCCU's Mexico program, said that the typical profile of a person living in poverty is that of an individual who understands and is accustomed to a credit culture. Donor-funded development programs, as a result, have focused on providing microcredit to alleviate poverty in rural communities. Recent research on microcredit programs, however, has questioned the effectiveness of this approach. Through the PATMIR project, WOCCU's focus in Mexico is to bring financial services to the poor and help them build assets through savings.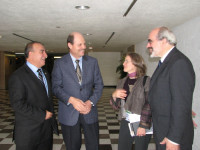 (l-r) Luis Jara, WOCCU, Jeffrey Max Jones, sub-secretary of agri-business strengthening, SAGARPA, Gabriela Zapata, SAGARPA/PATMIR and Brian Branch, WOCCU, meet after a press conference on Tuesday.
"We always knew that people in rural areas save...that the poor save in real goods such as animals, bricks, even tires," said Brian Branch, WOCCU executive vice president and COO. "Today, we know more about cash flows in rural households, that they depend on diverse sources of income—some agricultural, some not. With PATMIR's leadership, we have learned how to bring financial services to the member without constructing a branch office in every village. Currently, we are learning how to use technology to lower the costs of service delivery."
WOCCU's development program in Mexico is helping credit unions expand their services to underserved areas through its rural outreach methodology, semilla cooperativa [cooperative seed], which emphasizes savings mobilization. The approach involves credit unions training rural field officers to attract new members, extend financial education, approve small loan applications and bring credit, savings and remittance services directly to people living in remote areas up to 30 km. (19 miles) from branch offices. Learn more.
New technologies and tools being implemented through WOCCU's program credit unions in Mexico are debunking the myth that the poor are too expensive and risky to serve. Personal digital assistants (PDAs), handheld printers, point-of-service (POS) devices and plans for installing ATMs in rural areas are helping reduce the risks and costs associated with reaching marginalized communities by making transactions more efficient. Credit unions are also using a WOCCU-developed route-costing tool to identify viable areas for expansion.
The WOCCU program in Mexico is currently surveying 20,000 people living in rural areas to determine their true financial needs. Preliminary results have revealed that 54% of members joined the credit union to access both savings and credit products compared with 26% who only wished to access credit. Of the non-members surveyed, 46% were interested in both savings and loans, whereas just 20% desired credit. The survey results will help the program create an accurate member profile and assist credit unions with tailoring their products and services.
"Savings and credit aren't new, but we're making headway in determining the best delivery method, mechanisms and packaging to best meet the needs of the poor," explained Gabriela Zapata, director of financial organization strengthening with SAGARPA's PATMIR project. She added that the semilla cooperativa model outshines typical group lending programs because it is savings-based and serves both men and women.
Jara shared that many credit unions have said they do not reach out to the poor because it is too dangerous, expensive and difficult, and that it is not their market. He explained that if you inspire confidence and trust in members, the credit union will grow.
"People in rural areas need us," Jara told the crowd of credit union leaders. "They are ready to receive formal financial services. They are ready for us to offer them services the moment they need it. But it's up to you to decide how to continue moving forward."
In addition to the conference, 19 people from five countries attended the second year of WOCCU's Manager Certification Program, which is a hands-on regional training to give credit union managers the tools they need to analyze and forecast the financial condition of their institutions.
World Council of Credit Unions is the global trade association and development agency for credit unions. World Council promotes the sustainable development of credit unions and other financial cooperatives around the world to empower people through access to high quality and affordable financial services. World Council advocates on behalf of the global credit union system before international organizations and works with national governments to improve legislation and regulation. Its technical assistance programs introduce new tools and technologies to strengthen credit unions' financial performance and increase their outreach.
World Council has implemented 300+ technical assistance programs in 89 countries. Worldwide, 68,882 credit unions in 109 countries serve 235 million people. Learn more about World Council's impact around the world at www.woccu.org.