Middle-Income Americans Best Served by Credit Unions, Lawmaker Said
Leaders in and outside the industry address the Global Women's Leadership Network
March 22, 2012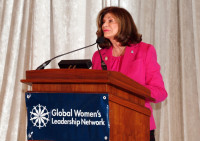 Rep. Shelley Berkley addresses members and supporters during the 2012 Global Women's Leadership Network breakfast.
WASHINGTON, D.C. — "No one does more for middle-income Americans than credit unions," Rep. Shelley Berkley (D-Nev.) told members of the Global Women's Leadership Network, a World Council of Credit Unions initiative devoted to connecting women credit union leaders worldwide. Berkley addressed the network as part of the group's annual breakfast meeting, sponsored by CU*Answers and held at the National Museum of Women in the Arts on Wednesday morning during the Credit Union National Association's (CUNA) Governmental Affairs Conference.
The breakfast, which provides participants with networking and educational opportunities, was attended by more than 100 members and supporters. The three breakfast speakers represent leaders from in and outside the industry and all share a mutual dedication to the global credit union movement.
Rep. Berkley, who has been involved with credit unions since the 1970s and has supported credit union legislation throughout her career, thanked credit unions for providing critical services in her home district and across the country in neighborhoods and communities ignored by other financial service providers. Berkley specifically cited credit union loans to small and women-owned business and college loans as vital contributions to economic growth.

"Credit unions are making it possible for thousands and thousands of students to go to college," said Berkley, who urged breakfast attendees to continue blazing a trail of increased member service around the country.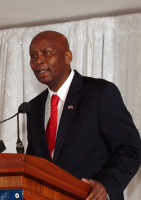 Ambassador Odembo discusses what is currently happening in Kenya's credit unions.
Elkanah Odembo, U.S. ambassador to Kenya, also addressed the network and provided insight into changes currently happening among Kenya's credit unions. Kenya's Savings and Credit Cooperatives (SACCOs), as credit unions are called, are a young, male-dominated movement with less than 40 years of development experience. Thanks to recent legislative changes, one-third of the management and governance positions in Kenya's SACCOs be filled by women in the upcoming months.
"Women are the backbone of our development," Odembo explained, "Over the next five years the role of women will be very significant in transforming our economy."
In addition to hearing from leaders outside the industry, Ventura County Credit Union's Board Chair Roxy Ostrem also spoke to the network about how her credit union is reaching out to agricultural workers in Ventura County, Calif. To reach this group credit union staff visit employees at their workplaces to conduct credit union business, a step Ostrem said is critical for the credit union to take.
"Many of these workers are of modest means and they have to pay for a ride to work, to get home and to the grocery store to cash their paycheck, which the grocery store then charges $35 to do," Ostrem said. "By going out in the fields we're saving these members money and we are teaching financial literacy."
This May the Global Women's Leadership Network is planning an engagement program to Ostrem's credit union so other credit unions can learn how to start similar programs. (Visit www.cuwomen.org/engagementprograms to learn more.) "Get involved if you can," Ostrem said. "We can help the people in our neighborhood, state and across the country."
The Global Women's Leadership Network connects credit union women with fellow leaders in other credit union movements all over the world and engages them in professional and personal development through social media and educational forums. The network offers international perspectives on the common challenges we all face around the globe, such as growth strategies, alternative capital and operational efficiencies. By interacting with other professionals in a business forum, women can access unlimited resources and learn from the experiences of their peers.
For more information about the Global Women's Leadership Network and how you can get involved visit www.cuwomen.org.
World Council of Credit Unions is the global trade association and development agency for credit unions. World Council promotes the sustainable development of credit unions and other financial cooperatives around the world to empower people through access to high quality and affordable financial services. World Council advocates on behalf of the global credit union system before international organizations and works with national governments to improve legislation and regulation. Its technical assistance programs introduce new tools and technologies to strengthen credit unions' financial performance and increase their outreach.
World Council has implemented 300+ technical assistance programs in 89 countries. Worldwide, 68,882 credit unions in 109 countries serve 235 million people. Learn more about World Council's impact around the world at www.woccu.org.