Minnesota and Paraguay Wrap Up Credit Union Exchange Program
May 03, 2006
ST. PAUL, Minn. – Edgar Alejandro Viveros Barboza and Maria del Carmen Gonzalez Cameron boarded an airplane and returned to Paraguay on April 22 after visiting Minnesota for more than two weeks, taking part in a credit union exchange program. The exchange was coordinated by the Minnesota Credit Union Network (MnCUN) and the Paraguayan credit union organization Central de Cooperativas del Area Nacional Ltda. (CENCOPAN), who were partnered in 2004 through the World Council of Credit Union's International Partnership Program.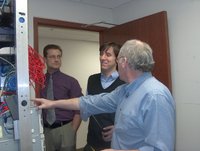 Edgar Alejandro Viveros learning at SouthPoint FCU
Early on in the partnership, technology was identified as a major area of focus. Barboza and Cameron both work within the IT department at Cooperativa Universitaria, the largest credit union in Paraguay.
After meeting with MnCUN and Mid-States Corporate Federal Credit Union employees and attending the MnCUN Annual Meeting & Convention, Barboza and Cameron each spent one week at two Minnesota credit unions to learn about American credit union technology operations. During that time, they were lodged with host families.
"I feel that this was a very successful program and was a great 'next step' in our partnership with CENCOPAN," said Dana Hofmann-Geye, MnCUN Executive Vice President & General Counsel. "I look forward to the second part of the exchange this fall, as we continue our mutually beneficial relationship."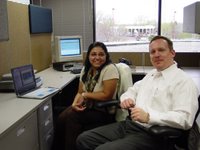 Carmen Gonzalez Cameron at Postal Credit Union in St. Paul
Barboza spent week 1 of the exchange with Affinity Plus Federal Credit Union in St. Paul and week 2 at SouthPoint Federal Credit Union in Sleepy Eye.
Dick Nesvold, President/CEO of SouthPoint FCU, was impressed with Barboza's knowledge of IT, which allowed SouthPoint to cover complex issues during the visit. Barboza even gave SouthPoint's Vice President of Operations a 46-item questionnaire to determine how and why the credit union selected its various vendors.
"To see the extent of our use of technology gave Alex a great perspective on how much more they can utilize it in Paraguay," Nesvold said, calling the exchange an overwhelming success. "He learned a lot, and the opportunity also gave us a chance to step back and evaluate our past and present technology operations."
During the SouthPoint visit, they discussed Microsoft Windows, server/network set-up, internet security, external threats, and how to mitigate risk. The credit union also spent a great deal of time covering IT policies and procedures, system upgrades, and communication between and within branches.
Barboza thought the most beneficial aspect of the visit was seeing how U.S. credit unions use technology and the various types of equipment they employ. Upon returning to Paraguay, he hopes to implement internet technology and security policies within Cooperativa Universitaria's IT department.
During Cameron's first week of the exchange, she visited Twin City Co-ops Federal Credit Union in Falcon Heights, followed by Postal Credit Union in St. Paul for week 2.
"I enjoyed learning about the technology used at Minnesota credit unions, and most importantly, meeting the amazing people. It was an incredible experience," Cameron said. "It was beneficial to make contact with the technology administrators to be able to compare it with how we do things in Paraguay.
"The exchange helped me grow professionally and improve my English," she added. "The whole experience was an investment for me and for Paraguay."
World Council of Credit Unions is the global trade association and development agency for credit unions. World Council promotes the sustainable development of credit unions and other financial cooperatives around the world to empower people through access to high quality and affordable financial services. World Council advocates on behalf of the global credit union system before international organizations and works with national governments to improve legislation and regulation. Its technical assistance programs introduce new tools and technologies to strengthen credit unions' financial performance and increase their outreach.
World Council has implemented 300+ technical assistance programs in 89 countries. Worldwide, 68,882 credit unions in 109 countries serve 235 million people. Learn more about World Council's impact around the world at www.woccu.org.