MnCUN Delegates Speak Governance, Politics in Paraguay
June 12, 2007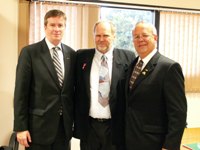 Sen. Rolando Dietze (center), member of Paraguay's National Congress and its Committee of Cooperative Affairs, met with Mark Cummins (left) and Dick Nesvold.
St. Paul, MN—Officials from the Minnesota Credit Union Network (MnCUN) attended an international seminar in Paraguay on May 21-22, entitled "Credit Unions: Valid Alternatives for Social and Economic Development, emphasis on Training, Technology, Regulation, Ecology & Microfinance."
MnCUN Board Chairman Dick Nesvold of SouthPoint Federal Credit Union and MnCUN President and CEO Mark Cummins both attended the conference and addressed attendees during the fifth annual event. Approximately 400 credit union representatives took part in the international seminar.
Credit unions of Minnesota have a special relationship with those of Paraguay—MnCUN and Central de Cooperativas del Area Nacional Ltda. (CENCOPAN) partnered in 2004. The two credit union trade associations were paired through the World Council of Credit Unions (WOCCU) International Partnership Program.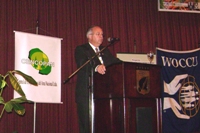 MnCUN Board Chairman Dick Nesvold addressed more than 400 attendees at CENCOPAN's international seminar in Paraguay on May 22.
During the event, Nesvold spoke on credit union governance, and Cummins discussed politics, government relations and its effect on credit unions. Other conference presentations focused on monitoring financial risk, advances in regulation and supervision and the impact of tax reform on credit unions.
"The conference attendees were very in-tune with what is going on in their respective credit unions and with the cooperatives as a whole, and it was an honor to be a part of such an event," Cummins said of his first partnership visit. "You get a real sense that Paraguayan credit union professionals and volunteers are not just hoping to make a difference, but that they actually expect to make a difference.
"CENCOPAN and the credit unions of Paraguay have a good foundation of political involvement, but they are in a similar position as we are. They are looking to transition from issue-driven political advocacy to systemic political advocacy," Cummins added. "We all are interested in avoiding crisis-mode grassroots lobbying by working with legislators on a continual basis, and we have much to learn from each other."
After the conclusion of the international conference, the US visitors met with Senator Rolando Dietze, member of Paraguay's National Congress and its Committee of Cooperative Affairs. Sen. Dietze discussed the country's economy and the impact of cooperatives with Nesvold, Cummins and Michelle Kramer of WOCCU.
During the final two days of the trip, CENCOPAN representatives coordinated several tours of credit unions, including Mercado No. 4 Ltda., Universitaria Ltda., Del Sur Ltda. and Colonias Unidas Ltda. Nesvold, who previously traveled to Paraguay in 2004 during MnCUN's inaugural partnership visit, was pleased to revisit the Mercado and Universitaria credit unions and be able to personally assess the changes.
"It was amazing to see how the credit unions have developed over the past three years, including membership growth and level of savings," Nesvold said. Although Universitaria is the largest credit union in Paraguay compared with Mercado No. 4, which is smaller and specializes in microfinance lending, Nesvold said both had made tremendous advances.
"It is encouraging to see the commitment and the passion that [Paraguayan credit unions] have, regardless of their size or limitations, and to see the service that they provide to their members," Nesvold said.
The MnCUN-CENCOPAN partnership has a number of initiatives on deck yet this year: the continuation of a credit union exchange program and an international dialogue with regulators from Paraguay, NCUA and the Minnesota Department of Commerce.
"The credit unions of Paraguay are truly mission- driven and are focused more on helping people than on growing and making money," Cummins said. "They recognize that growing and having a secure institution is the best way to serve their members, yet they live and breathe that member focus. This trip was an incredibly energizing experience."
World Council of Credit Unions is the global trade association and development agency for credit unions. World Council promotes the sustainable development of credit unions and other financial cooperatives around the world to empower people through access to high quality and affordable financial services. World Council advocates on behalf of the global credit union system before international organizations and works with national governments to improve legislation and regulation. Its technical assistance programs introduce new tools and technologies to strengthen credit unions' financial performance and increase their outreach.
World Council has implemented 300+ technical assistance programs in 89 countries. Worldwide, 68,882 credit unions in 109 countries serve 235 million people. Learn more about World Council's impact around the world at www.woccu.org.