NYSCUL & PR CUs Partnership Announced
NYSCUL
August 15, 2005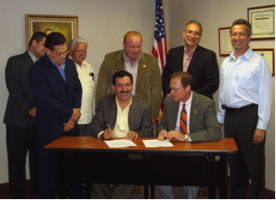 First to sign the partnership agreement was Luis R. López, Cooperativa Abraham Rosa (seated left). Looking on were (clockwise from left): Victor Corro, WOCCU; Samuel Rivera, Cooperativa de Ahorro y Crédito Padre Mac Donald; Efrain O'Neill & Kerwin A. Morales, Cooperativa de Ahorro y Crédito Jesús Obrero; John C. Gibardi, Entertainment Industries FCU; Celestino Rivera, GrupoVisión Empresarial; and William J. Mellin, NYSCUL.
Latham, NY – The New York State Credit Union League (NYSCUL) announced their partnership with Puerto Rican Coopertivas (credit unions) and the World Council of Credit Unions (WOCCU). The partnership is a commitment to mutual assistance and a framework for a relationship that will stretch into the future. It also represents the culmination of several meetings and discussions between the two credit union entities.
"We are excited about the potential benefit to New York credit unions this agreement will offer," said NYSCUL President/CEO William J. Mellin. "Especially to those credit unions that serve areas with a high Puerto Rican population."
"This alliance represents the best of the commitment of 'people helping people' made by credit union movements throughout the world," added Victor Coro, international partnerships manager, WOCCU.
Last Monday, the League welcomed five delegates from coopertivas to continue a discussion, initiated during a November visit to Puerto Rico, on core services and the kind of assistance they could provide. They also explored business opportunities with the League's affiliates and Empire Corporate FCU.
The Puerto Rican contingent had and received answers to many questions, talked about financial cooperatives in their territory, the many parallels to our credit union system and to New York itself, given the state's large Puerto Rican population.
Participating in the meeting were guests:
Luis R. López, executive president, Coopertiva Abraham Rosa ($91 million in assets)
Samuel Rivera, executive president, Coopertiva de Ahorro y Crédito Padre Mac Donald ($49 million in assets)
Kerwin A. Morales, executive president, and Efrain O'Neill, board member, Coopertiva de Ahorro y Crédito Jesús Obrero ($34 million in assets)
Celestino Rivera, president and consultant, GrupoVisión Empresarial
Victor Corro, international partnerships manager, World Council of Credit Unions
From the League were:
William J. Mellin, president/CEO
John C. Gibardi, board member, president/CEO, Entertainment Industries FCU
Michael Lanotte, SVP, Association Services/General Counsel
Ed Kovalefsy, SVP, Support Services
Diane LaVigna-Wixted, executive director, New York Credit Union Foundation
Ron McLean, director, Executive Affairs
Donna Chardeen, director, Compliance
Kim McCumber, VP, Card Services (affiliate)
Dick Maxstadt, VP, Operations, CUC Mortgage (affiliate)
The meeting was a great success, culminating with the official signing of the international partnership agreement and a request to visit a couple of large credit unions locally.
The League brought the group to tour the headquarters and a branch of SEFCU and Sunmark FCU, respectively. They got a first hand look at operations at both credit unions, learned about each credit union's history, mission, core values, product and services, rates, growth and credit union best practices.
"This provided an opportunity for our colleagues from Puerto Rico to learn about SEFCU products, the way we operate and how we help our members with their financial services needs," said Michael Castellana, president of SEFCU.
"The opportunity to host the delegation and to further promote WOCCU's inititative is a great opportunity for Sunmark and our industry," said Bruce Beaudette, president/CEO, Sunmark FCU.
SEFCU is one of the largest credit unions in upstate New York, serving over 130,000 members in the Capital Region, Binghamton, and Syracuse areas. SEFCU has assets of more than $1.2 billion and offers a full range of deposit and loan products and services, as well as business banking, online banking, electronic bill payment, and eStatements. For more information visit www.sefcu.com.
Sunmark FCU is a full-service, community chartered credit union that serves more than 46,000 members and businesses and has assets of $406 million. For more information, visit www.sunmarkfcu.org.
Empire Corporate Federal Credit Union ( www.empirecorp.org) is a $4.9 billion financial institution that provides wholesale investment, credit, payment and correspondent services to over 1,000 credit unions. Empire has a national field-of-membership and is headquartered in Albany, NY, with branch offices in Jamesburg, NJ; Sioux Falls, SD; and Warwick, RI.
WOCCU ( www.woccu.org) is the apex trade association and development organization of the international credit union system. It serves more than 123 million people worldwide through its regional confederations and national member organizations in 84 countries.
The New York State Credit Union League has served as the trade association for the state's credit unions for more than 80 years. It is the fourth largest league in the country. New York credit unions have assets of more than $35 billion and more than four million members. To learn more about the League, visit www.nyscul.org.
World Council of Credit Unions is the global trade association and development agency for credit unions. World Council promotes the sustainable development of credit unions and other financial cooperatives around the world to empower people through access to high quality and affordable financial services. World Council advocates on behalf of the global credit union system before international organizations and works with national governments to improve legislation and regulation. Its technical assistance programs introduce new tools and technologies to strengthen credit unions' financial performance and increase their outreach.
World Council has implemented 300+ technical assistance programs in 89 countries. Worldwide, 68,882 credit unions in 109 countries serve 235 million people. Learn more about World Council's impact around the world at www.woccu.org.