New Practices Hurt Credit Union Development, WOCCU Tells Congress
September 20, 2005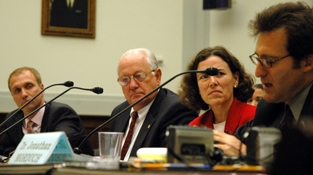 Plank and other participants listen to testimonial by Morduch. (Photo provided by CUNA)
Washington, D.C. – World Council of Credit Unions, Inc. (WOCCU) Chairman Gary Plank testified before a House International Relations subcommittee in DC this afternoon, telling the assembled Members of Congress that despite WOCCU's strong track record in the delivery of microfinance technical assistance, new project funding by the U.S. government has been drastically affected by recent trends to use massive contracts rather than competing work through cooperative agreements and grants to small, specialized agencies like WOCCU.
The hearing before the House International Relations Subcommittee on Africa, Global Human Rights and International Operations was called to evaluate the implementation of the Microenterprise Results and Accountability Act of 2004, last year's reauthorization legislation that aimed to offer niche practitioners like WOCCU the ability to better compete for microfinance development work funded by the U.S. Agency for International Development (USAID), the U.S. government's foreign assistance arm. Also testifying were James T. Smith, USAID assistant administrator; New York University associate professor of public policy and economics Jonathan Morduch, Ph.D; Susy Cheston, senior vice president for Opportunity International; and Lawrence Yanovitch, director of policy and technical assistance for the Foundation for International Community Assistance.
"Credit unions are in the business of helping people help themselves to improve their lives," Plank testified on behalf of WOCCU, the Credit Union National Association (CUNA) and the Arizona Credit Union System, where he is president and CEO. "As a leading source of microenterprise funding, credit unions have helped thousands in the developing world start small businesses and learn important self-support skills."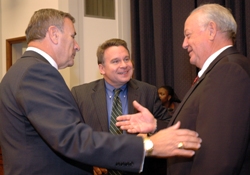 (l-r) Mica, Smith and Plank. (Photo provided by CUNA)
WOCCU is currently carrying out 15 multi-year country programs, nine of which are funded by USAID. Credit unions supported by these programs serve 3.1 million members and have mobilized $3.9 billion in savings to fund more than $3.6 billion in loans.
"USAID now funds broad umbrella programs that attempt to work across the financial sector with general training provided by contractors and their consultants. The breadth of the activities bundled into one large contract ... essentially preclude[s] small specialized firms from being able to viably compete as prime implementers for large contracts," said Plank.
Plank explained to the subcommittee that the U.S. credit union movement is directly engaged in many of WOCCU's projects through WOCCU's International Partnership Program. There are 18 partnerships between state credit union leagues and credit union movements in developing countries, said Plank, and many of the partnership stem from WOCCU programs funded through USAID cooperative agreements, and continue with the financial and personal support of the U.S. credit unions and leagues involved.
"From my vantage point as a U.S. credit union leader, it is clear to me that as the use of large contracts increases, USAID loses the added benefit of the U.S. credit union movement's volunteer service to enhance the productivity and outreach of microfinance," said Plank.
"CUNA and WOCCU implore Congress to recognize the fundamental changes that must be made in USAID procurement practices and capacity to reverse the trend of issuing large contracts and impeding the ability of smaller, not-for-profit firms to compete for funding," he said.
To view Plank's testimony in full, click here.
World Council of Credit Unions is the global trade association and development agency for credit unions. World Council promotes the sustainable development of credit unions and other financial cooperatives around the world to empower people through access to high quality and affordable financial services. World Council advocates on behalf of the global credit union system before international organizations and works with national governments to improve legislation and regulation. Its technical assistance programs introduce new tools and technologies to strengthen credit unions' financial performance and increase their outreach.
World Council has implemented 300+ technical assistance programs in 89 countries. Worldwide, 68,882 credit unions in 109 countries serve 235 million people. Learn more about World Council's impact around the world at www.woccu.org.