Nicaragua and MDDCCUA Renew Partnership Commitment
June 22, 2007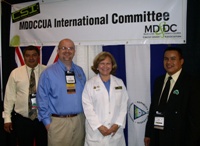 Invited as special guests to the MDDCCUA Annual Meeting and Convention, CSO delegates had the chance to talk with MDDCCUA International Committee representatives. Pictured (l-r): German Membreno (CSO), John Godwin (MECU), Sarah Turner (MDDCCUA) and Juan Altamirano (CSO).
Washington, DC—Delegates from the Nicaraguan Central Services Organization (CSO) and the Maryland and DC Credit Union Association (MDDCCUA) met in Maryland and Washington, DC, June 14-19, to renew their partnership commitment and discuss future goals.
CSO and the former DC Credit Union League established a partnership through the World Council of Credit Unions (WOCCU) International Partnerships program in 2002. The visit marked the first meeting between CSO and the new MDDCCUA since the DC and Maryland credit union leagues merged last year.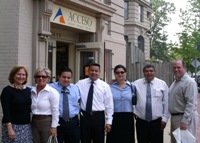 CSO delegates visit ACCESO shared branch in Mt. Pleasant, a predominately Hispanic neighborhood of Washington, DC. Pictured (l-r): Sarah Turner (MDDCCUA), Ana Maria Barrientos (DGEFCU), Diego Grajales (ACCESO), Juan Altamirano (CSO), Carla Decker (DGEFCU), German Membreno (CSO), and Michael Beall (MDDCCUA).
To kick off the visit, Juan Altamirano, CSO CEO, and German Membreno, CSO Vice Chairman and CEO of Dinamica Credit Union, attended the MDDCCUA Annual Meeting and Convention. They were among 700 credit union board members and managers that came together to discuss challenges faced by credit unions.
MDDCCUA CEO Michael Beall, who hosted the visit with Sarah Turner, MDDCCUA Vice President of Strategic Alliances, explained, "The topics covered during this convention—growth, governance and expanding services—are challenges both MDDCUA and CSO face. Through the partnership exchange, we can overcome these challenges together."
Altamirano and Membreno were especially interested in the sessions related to shared branching. Credit unions in Nicaragua have a manual shared branching system in which transactions are verified by telephone and fax. CSO's goal is to computerize the system so that credit unions can process shared branching transactions in real time.
Altamirano left the convention encouraged. "It is wonderful to know that there are people in the MDDCCUA with technical knowledge that they are ready to share. This is more valuable to us than money," he said.
Following the convention, Altamirano and Membreno spent two days visiting credit unions, including MECU in Baltimore and PAHO/WHO Federal Credit Union, ACCESO and District Government Employees Federal Credit Union in DC. They discussed topics ranging from committee policies, community outreach, operations and marketing to shared branching and remittances.
Membreno noted, "This partnership visit has given me the opportunity to exchange ideas with other credit unions and learn about innovative practices. I have so much to talk about with the credit unions when I get back to Nicaragua."
The partnership visit concluded with a discussion of future activities and goals. In July, MDDCCUA will send two volunteers to Nicaragua to provide training on nominating committee and governance best practices. In coming years, MDDCCUA will provide technical assistance to CSO on shared branching, and CSO will work with credit unions in DC and Maryland to enhance outreach to immigrant groups.
Reflecting on the visit, Turner said, "This partnership epitomizes the cooperative spirit of credit unions. We can learn from each other to provide better services to our members in both countries."
World Council of Credit Unions is the global trade association and development agency for credit unions. World Council promotes the sustainable development of credit unions and other financial cooperatives around the world to empower people through access to high quality and affordable financial services. World Council advocates on behalf of the global credit union system before international organizations and works with national governments to improve legislation and regulation. Its technical assistance programs introduce new tools and technologies to strengthen credit unions' financial performance and increase their outreach.
World Council has implemented 300+ technical assistance programs in 89 countries. Worldwide, 68,882 credit unions in 109 countries serve 235 million people. Learn more about World Council's impact around the world at www.woccu.org.