Oregon Rep. Suzanne Bonamici Addresses Global Women's Leadership Network at CUNA/GAC Breakfast Event
Congresswoman applauds credit unions for economic development of their communities
February 28, 2013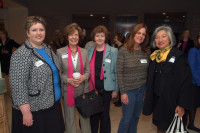 Women from 23 U.S. states met and mingled at the National Museum of Women in the Arts, including (from left) Stacy Augustine, NWCUA general counsel; Mary Martha Fortney, National Association of State Credit Union Supervisors (NASCUS) president and CEO; Orla Beth Peck, NASCUS chairman, Amy Rapp, consultant; and Lucy Ito, senior vice president of the California & Nevada Credit Union Leagues. (Photo by Larry Glatt)
WASHINGTON, D.C. — Women credit union leaders from more than 23 states around the country gathered at the National Museum of Women in the Arts yesterday morning to discuss current issues facing women in the industry and to hear from high-caliber speakers about the role of credit unions and women in economic development.
Rep. Suzanne Bonamici of Oregon, who co-sponsored the credit union member business lending bill earlier this year in Congress, spoke to the group of 105 credit union executives and board members about the important role credit unions play in economic development. She said many small businesswomen have been able to contribute to their local economies through the help of their credit unions.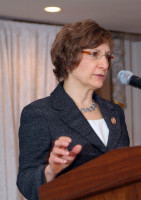 Rep. Suzanne Bonamici of Oregon applauded the work of credit unions to improve their local economies and the Network's efforts to connect and support women. (Photo by Larry Glatt)
Bonamici applauded the group of women for the work they were doing and encouraged them to continue helping each other and to see value in learning different points of view. She ended with a quote from Madeline Albright: "There is a special place in hell for women who don't help other women."
Laida Garcia, floridacentral Credit Union president and CEO and Network member, found the networking opportunity both educational and inspiring.
"Special guest speakers like Congresswoman Bonamici made the event extremely meaningful," Garcia said. "Not only is she a great role model for women in leadership positions, but she is also a friend of credit unions who gets that raising the member business lending cap is about helping small business. We need more leaders on Capitol Hill who share her perspective and support the passage of H.R. 688, the Credit Unions Small Business Jobs Creation Bill."
The Northwest Credit Union Association (NWCUA) helped bring Bonamici to the event because of her support of women's issues at the congressional level.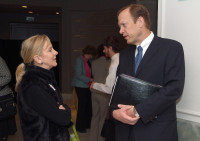 Fredda McDonald (left), PSCU Financial Services executive vice president, chats with Bill Cheney, CUNA president and CEO, at the Global Women's Leadership Network Breakfast. (Photo by Larry Glatt)
"Rep. Bonamici is a powerful example of what it means to be a credit union champion," said Jennifer Wagner, NWCUA vice president of legislative advocacy and Network member. "She understands the unique structure of Oregon's credit unions and the critical role credit unions play in their communities. Her first official action in Congress was to sign the credit union MBL bill last year, and she is back fighting for us again this year."
Bill Cheney, Credit Union National Association president and CEO, also addressed the group, as well as Teresa Freeborn, Xceed Financial Credit Union president and CEO, and Zixta Martinez, Consumer Financial Protection Bureau assistant director of community affairs.
The Global Women's Leadership Network is a World Council of Credit Unions program that connects credit union women around the world to engage in personal and professional growth, international credit union development and peer networking and support. More than 350 women from 35 countries have been involved with the network since its inception, with regional sister societies in multiple locations including Canada, Fiji, Jamaica and the United States. Learn more at www.CUwomen.org.

World Council of Credit Unions is the global trade association and development agency for credit unions. World Council promotes the sustainable development of credit unions and other financial cooperatives around the world to empower people through access to high quality and affordable financial services. World Council advocates on behalf of the global credit union system before international organizations and works with national governments to improve legislation and regulation. Its technical assistance programs introduce new tools and technologies to strengthen credit unions' financial performance and increase their outreach.
World Council has implemented 300+ technical assistance programs in 89 countries. Worldwide, 68,882 credit unions in 109 countries serve 235 million people. Learn more about World Council's impact around the world at www.woccu.org.
NOTE: Click on photos to view/download in high resolution.