Participants from Six Countries Visit Ecuador During WOCCU's Second Co-op Learning Tour
October 09, 2007

WOCCU Ecuador Co-op Learning Tour participants visited the Paute Women's Association to see how the organization works with the local credit union to grow their members' businesses.
MADISON, Wis.—High technology and a social mission combine for superior member service at Cooperativa Jardín Azuayo (CJA), an Ecuadoran credit union that advertises largely through word of mouth from its nearly 100 board members. CJA and the rest of country's credit union system were studied by 13 credit union leaders from six countries who visited Ecuador Sept. 30–Oct. 7 during the World Council of Credit Unions' (WOCCU) second Cooperative Learning Tour. Participants in the one-week intensive experience studied credit unions, cooperative issues and WOCCU's activities in the Latin American country.
"The diversity of the participants' roles and geographies contributed to rich discussions on issues such as remittances, immigration and credit union purpose," said Valerie Breunig, executive director of WOCCU's Worldwide Foundation and the trip's co-leader. Participants hailed from Barbados, Canada, Macedonia, Scotland and the United States. The week-long intensive program included a joint discussion session with a Venezuelan credit union group also studying in Ecuador. Participants learned about Ecuador's credit union system, WOCCU's current Ecuador project and CJA, a unique credit union located in a largely mountainous area that relies on word-of-mouth promotion rather than print advertising or signage. Study participants toured CJA education projects and branches, meeting with managers and elected leaders for roundtable discussions on indirect lending, community partnerships, cooperative education, a cooperative housing subsidiary and the credit union's unique management structure.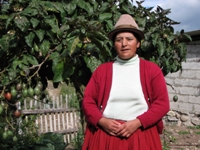 Margarita Naula told WOCCU's Co-operative Learning Tour participants how the credit union helped her and her husband, Geranimo, develop a farm, thereby reuniting their family.
"We were amazed to learn how CJA leveraged technology," said Breunig. Participants saw sophisticated IT systems, ATMs and JAMovil, the credit union's mobile phone plan that includes account transfer capabilities among its features. The group also participated in a live video conference at a telecenter in CJA's Paute office soon to open to the public. The telecenter, another option developed in an attempt to serve the local public, was part of WOCCU's development effort. CJA currently has 85,000 members, 25 branch offices and boasts US$66 million in assets.
"What was most striking was how, despite its size and technology, CJA saw itself as a social service organization that works through financial services, rather than a financial institution that also provides social assistance projects," Breunig said.
Tour participant Elizabeth Randall, interim CEO of Pasadena (Calif.) Federal Credit Union, agreed, noting that CJA demonstrates a true internal focus on member needs, rather than an external focus on what competitors are doing. "This philosophy is something we can draw from when developing new products or making management decisions," she said.
Oscar Guzman, WOCCU Ecuador Project Director, started the week's program with an overview of the Ecuadorian financial system and WOCCU projects, which include director training, readying credit unions for new government regulation, a shared branching project and a series of telecenters that will bring low-cost Internet and telephone service to rural communities. Following the CJA visits, the WOCCU group visited five credit union members to see their businesses and learn how the credit union aids community organizations and the working poor to improve their lives.
In addition to Randall, the study group included 12 other credit union leaders from five countries: Frank Felix, Arizona State Credit Union, Phoenix, Ariz.; Ellen Gardner, State Employees Credit Union, Linthicum, Md.; Dale Horst, Mennonite Savings & Credit Union, Kitchener, Ontario, Canada; Margaret Smyth and Alex Wyllie, Scotwest Credit Union, Glasgow, Scotland; Steve and Michelle Stapp, Redwood Credit Union/Monarch, Santa Rosa, Calif.; John Paul Stewart, Barbados Public Workers' Union Public Co-operative Credit Union, St. Michael, Barbados; Tesha Urban, CUNA Mutual Group, Madison, Wis.; and Eleonora Zgonjanin Petrovik, FULM House Savings, Skopje, Macedonia.
Two more Cooperative Learning Tours and a Hispanic Marketing Immersion Program soon will be announced for 2008.
World Council of Credit Unions is the global trade association and development agency for credit unions. World Council promotes the sustainable development of credit unions and other financial cooperatives around the world to empower people through access to high quality and affordable financial services. World Council advocates on behalf of the global credit union system before international organizations and works with national governments to improve legislation and regulation. Its technical assistance programs introduce new tools and technologies to strengthen credit unions' financial performance and increase their outreach.
World Council has implemented 300+ technical assistance programs in 89 countries. Worldwide, 68,882 credit unions in 109 countries serve 235 million people. Learn more about World Council's impact around the world at www.woccu.org.