Polish-Ukrainian Cross Border Cooperation Fosters Dialogue on Credit Union Systems
Study Tour of Poland's Credit Union System Offers Ukrainian Parliamentarians Insights into Reforming Ukraine Credit Union System
October 02, 2017
WARSAW, Poland – A first of its kind, high level study tour of Poland's credit union system for Ukrainian government and parliamentarian representatives was organized by the United States Agency for International Development (USAID's) Credit for Agriculture Producers (CAP) Project implemented by the World Council of Credit Unions (WOCCU), in partnership with the National Association of Cooperative Savings and Credit Unions (NACSCU) and the Foundation for Cooperative Education (FCE) in mid-September. The Ukrainian delegation learned from Polish experience in credit union market regulation in the context of Poland's legal and regulatory environment.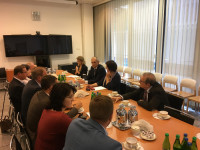 NACSCU and Polish legislators are providing guidance on how credit union systems, as evidenced by Polish credit unions, can be successful in a European Union legislative regulatory framework, marking a step forward in efforts to bring Ukraine closer to its European neighbors. Poland, once a recipient of assistance, now serves as a model for other credit union systems in Eastern Europe and partners with World Council in delivering technical assistance to credit unions in Ukraine. "Just as Poland introduced credit unions as vehicles for economic democracy in a time of opening political democracy, our Polish colleagues now support Ukrainian credit unions as channels for grassroots economic democracy in Ukraine," said Brian Branch, World Council president and CEO.
During the visit, the Ukrainian delegation learned about the consolidation and merger of credit unions in Poland under the new legal capitalization requirements through the Polish credit union law of 2009. They examined the supervision and regulation of the credit union market by the Polish Financial Supervision Authority and Ministry of Finance and discussed lessons learned from over 25 years in the credit union movement in Poland. These lessons can be applied to reforming Ukraine's credit union sector, particularly in the area of legislative reform, as Ukraine reviews a new draft law on credit unions this fall and determines whether to allow Ukrainian credit unions to access the state Deposit Guarantee Fund.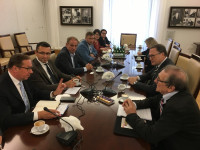 Declarations of support by all parties encouraged a continuation of the exchange between the Ukrainian and Polish representatives, under the umbrella of the USAID CAP Project. CAP is a four-year project (2016-2020) funded by the United States Agency for International Development (USAID) and implemented by World Council with oversight and technical assistance from the Volunteers for Economic Growth Alliance (VEGA).
The Ukrainian delegation was comprised of nine high ranking officials including the Ukrainian Regulator, Members of Parliament (the Chairs of the Non-Banking Financial Institutions and Protection of Consumer Rights), representatives of the Cabinet of Ministers and the Ministry of Finance, presidents of the All Ukrainian Credit Union Association (AUCUA) and the Ukrainian National Association of Savings and Credit Unions (UNASCU) and the CAP Project's key partners.
They were received by their Polish counterparts, consisting of the President of the State Banking Guarantee Fund, the Secretary of State of the Ministry of Finance, the Polish Regulator, Vice Presidents of the National Bank of Poland, the Secretary of State of the Ministry of Foreign Affairs, the Senator and Chair of the Public Finance Committee of the Senate and Members of Polish Parliament. The study tour was widely covered by Polish media and by the press service of the Polish Parliament and the Ministry of Foreign Affairs.
For More Information, Please Contact
Stephanie Grell Azar
WOCCU Program Manager


sgrell@woccu.org
About WOCCU
World Council of Credit Unions is the global trade association and development agency for credit unions. World Council promotes the sustainable development of credit unions and other financial cooperatives around the world to empower people through access to high quality and affordable financial services. World Council advocates on behalf of the global credit union system before international organizations and works with national governments to improve legislation and regulation. Its technical assistance programs introduce new tools and technologies to strengthen credit unions' financial performance and increase their outreach.

World Council has implemented 300+ technical assistance programs in 89 countries. Worldwide, 68,882 credit unions in 109 countries serve 235,000,000 people. Learn more about World Council's impact around the world at www.woccu.org.

About Volunteers for Economic Growth Alliance
Volunteers for Economic Growth Alliance is a consortium of 30 member NGOs that generate more prosperity through partnerships that bring together highly skilled volunteers with people around the globe seeking opportunities for self-reliance. Since 2004, VEGA has partnered with the U.S. government on 65 economic growth programs in 50 countries, saving more than $33 million taxpayer dollars and nearly doubling the program value through cost share and leverage, including more than 45,000 days of volunteer service. For more information about VEGA please visit www.vegaalliance.org.
This document was produced for review by the United States Agency for International Development. It was prepared by WOCCU for the USAID/Credit for Agriculture Producers (CAP) Project in Ukraine, agreement number AID-121-LA-16-00002.