Polish Credit Union System Thrives, WOCCU Delegation Learns
September 15, 2008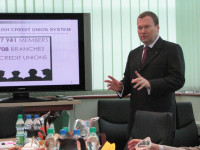 Grzegorz Bierecki, NACSCU president, gives an overview of the Polish credit union system to the WOCCU delegation.

SOPOT, Poland—Credit unions in Poland evolved like financial cooperatives elsewhere in the world, serving members of the country's maritime, mining and other major industries. As those industries changed, the Polish movement has been forced to broaden its focus and now enjoys even more success.
"Our market has changed as the big dinosaurs of Soviet industry have been downsized," Grzegorz Bierecki, president of the National Association of Co-operative Savings & Credit Unions (NACSCU), told members of a World Council of Credit Unions (WOCCU) engagement program visiting the country to advocate on the credit unions' behalf before Polish Parliament. "Credit unions are now pursuing a wider common bond, which is driving rapid growth."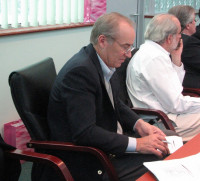 Mike Mercer, GCUA president, takes notes during Bierecki's presentation. GCUA is partnered with the Polish credit union system through WOCCU's International Partnerships program.
The growth outlined by Bierecki, who also serves as treasurer for WOCCU's board of directors, has helped the Polish credit union system (best known by its acronym SKOK) grow faster and provide more services than any other movement in recent history. Currently, NACSCU has 62 affiliated credit unions serving 1.8 million members through 1,708 points of service. Consolidated assets in the NACSCU system total US$4.1 billion and continue to grow.
Bierecki introduced himself to credit unions in the wake of the Solidarity movement, which helped liberate Poland from the Soviet Union's rule. In helping research financial systems for the newly democratic country, Bierecki found a perfect match in credit unions' one-member, one-vote ideal. In the early 1990s, he visited the United States and participated in Capitol Hill visits with members of Georgia Credit Union Affiliates (GCUA), the league that eventually partnered with NACSCU through WOCCU's International Partnerships program.
"They were real students of democracy, and we were intrigued with their interest," said Mike Mercer, president of GCUA and a participant in this week's advocacy efforts. The Georgia delegation took Bierecki to visit Sen. Sam Nunn (D-Ga.) and Rep. Newt Gingrich (R.-Ga.) during CUNA's Governmental Affairs Conference. The lawmakers were impressed with Bierecki's dedication and encouraged Poland's credit union growth, which to-date has been impressive, Mercer said.
"Polish credit union growth rates have been spectacular, so much so that they have been able to assist credit union movements in other countries to the east," Mercer explained. "Polish credit unions are at the front of the cooperative financial movement today. They did it through dedication, conviction and exceptional leadership, because at the time they didn't have much else."
The WOCCU delegation will accompany Polish credit unions leaders to Warsaw on Thursday to advocate against amendments to Polish credit union law that were newly introduced by the banking industry. If enacted, the amendments could severely curtail the credit unions' current level of service to members. Mercer is optimistic, however cautious, of the direction in which new legislation may go.
"I don't think there is much chance that harmful legislation will pass because the Polish credit union movement is too well connected to the government and the hearts of the Polish people," Mercer said. "However, if the new law does succeed, it would seriously throttle credit unions' abilities to serve the Polish people. It's a serious threat, and one that crops up whenever credit unions succeed."
Joining Mercer in advocacy efforts are Joe Bergeron, president of the Association of Vermont Credit Unions; Bill Cheney, president and CEO of the California & Nevada Credit Unions Leagues; Barry Jolette, CEO of San Mateo Credit Union in Redwood City, Calif., and WOCCU first vice chairman; Jim McCormack, president of the Pennsylvania Credit Union Association; Mike Schenk, vice president of economics and statistics for CUNA & Affiliates; and various WOCCU staff members.
World Council of Credit Unions is the global trade association and development agency for credit unions. World Council promotes the sustainable development of credit unions and other financial cooperatives around the world to empower people through access to high quality and affordable financial services. World Council advocates on behalf of the global credit union system before international organizations and works with national governments to improve legislation and regulation. Its technical assistance programs introduce new tools and technologies to strengthen credit unions' financial performance and increase their outreach.
World Council has implemented 300+ technical assistance programs in 89 countries. Worldwide, 68,882 credit unions in 109 countries serve 235 million people. Learn more about World Council's impact around the world at www.woccu.org.