Press for Progress on International Women's Day
Global Women Opens 2018 Scholarship Program 
March 08, 2018
MADISON, WI - "Major headwinds are shifting the conversation. Both your credit union members and talent pool are watching, making banking decisions and career choices to engage with organizations that align their values with your actions," said Calyn Ostrowski, executive director of World Council's Global Women's Leadership Network during last week's breakfast at CUNA's Governmental Affairs Conference.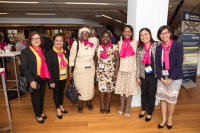 On 2018's International Women's Day, Global Women is calling upon the worldwide credit union movement to press for progress and encourages industry women to apply for the Network's 2018 scholarship. Successful candidates will participate in World Council's first ever Diversity & Inclusion track during the 2018 World Credit Union Conference to expand their professional networks and receive education and training. Applications are due April 6, 2018.

"Change happens when we deliberately challenge ourselves to include ideas, experiences and perspectives that are different from our own. More women in leadership drive the global credit union industry's innovation and performance for the future; helping credit unions better connect with members, communities and improves the bottom line," said Ostrowski.
Global Women is a World Council program that was established in 2009 to address and facilitate the industry's gender gap while also leveraging resources to strengthen the economic security of women and their families. The suite of programming provides credit union women with tangible skills, tools and resources they need to lead and offers actionable steps for organizations to follow. It is open to all women and includes the critical support, engagement, and participation of male champions.
World Council of Credit Unions is the global trade association and development platform for credit unions. World Council promotes the sustainable development of credit unions and other financial cooperatives around the world to empower people through access to high quality and affordable financial services. World Council advocates on behalf of the global credit union system before international organizations and works with national governments to improve legislation and regulation. Its technical assistance programs introduce new tools and technologies to strengthen credit unions' financial performance and increase their outreach.
World Council has implemented 300+ technical assistance programs in 89 countries. Worldwide, 89,026 credit unions in 117 countries serve 260 million people. Learn more about World Council's impact around the world at www.woccu.org.