Record Number of Supporters Attend DC Reception
February 27, 2007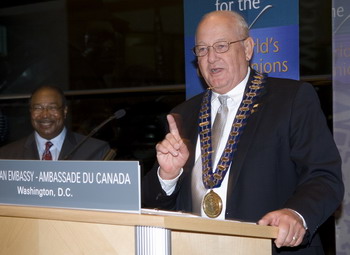 Gary Plank, WOCCU board chairman thanks WOCCU Supporters for their role in credit union development.
Washington, DC— Just blocks from the United States Capitol, the World Council of Credit Unions hosted a sold out donor reception at the Canadian Embassy Saturday evening. A record crowd of 360 World Council Supporters attended the event, which coincides with the CUNA Governmental Affairs Conference.
Ron McMorran, Finance Counsellor at the Embassy of Canada, a supporter of the international credit union movement, officially welcomed the group on behalf of Ambassador Michael Wilson and the entire embassy staff. The WOCCU Supporters Reception recognizes and celebrates the impact of the Supporters Program, which in 2006 raised almost $1.2 million to support international credit union development work.
Gary Plank, World Council board chairman noted, "The money raised through the Supporters Program funds projects such as the Strathmore- WOCCU African Management Institute, the first credit union certification program of its kind in Africa; International Partnership Program activities; and enabled the work with the Russian Credit Union League to develop an advocacy program, data processing systems, training programs and a marketing component." Donations to the WOCCU Disaster Relief Fund continued to help rebuild credit unions and communities destroyed by the tsunami in Sri Lanka as well as mudslides in the Philippines.
Penny Reeves, a World Council and Credit Union Central of Canada board member concluded the evening's program and thanked individual donors, along with inviting attendees to World Council's 2007 World Credit Union Conference in Calgary, Alberta July 29-August 1. Reeves shared, "We in Alberta are delighted to have been chosen as the host province. Our Canadian system includes 1,156 credit unions and caisse populaires, with more than 10.6 million members across the country and $180 billion in assets."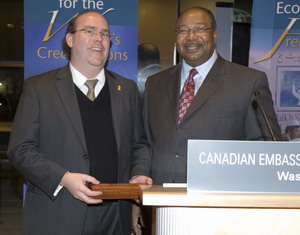 l-r: Ron McMorran, Finance Counsellor at the Candian Embassy poses with Pete Crear, WOCCU CEO during the reception.
To learn how you can support international credit union development efforts or for more information on World Council of Credit Unions' Worldwide Foundation, visit www.woccu.org or contact Valerie Breunig at vbreunig@woccu.org or 608-231- 7353.
World Council of Credit Unions is the global trade association and development agency for credit unions. World Council promotes the sustainable development of credit unions and other financial cooperatives around the world to empower people through access to high quality and affordable financial services. World Council advocates on behalf of the global credit union system before international organizations and works with national governments to improve legislation and regulation. Its technical assistance programs introduce new tools and technologies to strengthen credit unions' financial performance and increase their outreach.
World Council has implemented 300+ technical assistance programs in 89 countries. Worldwide, 68,882 credit unions in 109 countries serve 235 million people. Learn more about World Council's impact around the world at www.woccu.org.