Representatives Travel to Panama to Advance the International Credit Union Movement
ICUL
September 08, 2005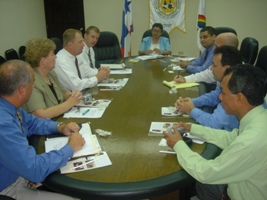 Representatives of ICUL learn how credit unions in Panama are regulated at IPACOOP, Panama's credit union regulator.
Des Moines, IA — Six representatives from the Iowa credit union movement and World Council of Credit Unions, Inc. (WOCCU) traveled to Panama Aug. 28-Sept. 1 to establish an international "People to People Partnership" exchange that will help strengthen the Panamanian credit union movement.
Those participating included: Patrick S. Jury, Iowa Credit Union League (ICUL) Vice President; Murray Williams, ICUL Director of Strategic Alliances & Public Affairs; Jan Dietzenbach, ICUL Management Consultant; Patrick Drennen, ICUL 2nd Vice Chair and 1st Gateway Credit Union CEO, Camanche, IA; Mark Kilian, Community Business Lenders CEO; and Victor Corro, WOCCU International Partnership Manager, Madison, WI.
"Our goal with this partnership is to champion the credit union philosophy of people helping people by providing assistance on an international level," Jury said. "We learned a lot from our friends in Panama during our first visit, and hopefully we provided them with new ideas for their credit unions in return."
To begin their visit, the Iowa credit union delegation met with the staff of COFEP – the Panama credit union trade organization – to learn more about each other and develop the groundwork for a long-term partnership. While Panama has a sound credit union movement in place, they are working to develop a more structured regulatory system, Jury said.
"In the United States, credit unions are a product of the legislative and regulatory process, so we have much experience in that arena," he said. "COFEP told us this is one area where Iowa could provide them with counsel and support."

Jacinto Villarreal, CEO, COFEP and Jan Dietzenbach, Managment Consultant, ICUL
The Iowa contingent next conducted a four-hour education session with approximately 100 Panamanian credit union representatives on their second day. Topics presented included: an overview of the Iowa credit union movement and ICUL governance structure; the importance of a sound regulatory environment; the role of volunteer boards of directors, how to engage in legislative advocacy, how to structure new business development, the role of credit union consulting; and an overview of member business lending.
On the final day, the group met with Panama's regulator for cooperatives (which also regulates the country's credit unions) to discuss the need for regulatory reform and visited five Panamanian credit unions of various sizes.
"I was fascinated by how similar the challenges are for credit unions in both the U.S. and Panama," Drennen said. "Though Panamanian credit unions are earlier in their evolution than we are in the U.S., their issues and goals are in line with what we see in Iowa credit unions."
During the exchange the Iowa delegation also visited the Miraflores Locks at the Panama Canal and received an exclusive tour of the canal's operations. "It was impressive to see that the Canal, now under Panama control, is still being operated with the same engineering design with which it was opened in 1914," noted Corro. "While at Miraflores Locks, the delegation was able to take control and raise two ships from Pacific sea level to Caribbean sea level."
COFEP and ICUL are now working to formalize their partnership and establish immediate and long-term goals for the relationship. Ongoing dialogue is planned and a international Webinar is in the works with the ICUL presenting to Panama credit unions via the Internet. A contingent from COFEP and Panama credit unions are also planning an Iowa visit in early 2006.
COFEP was formed in 1985 by U.S. credit unions in the Panama Canal Zone in order to provide a stabilization fund, guarantee fund and consulting for credit unions to preserve their financial well-being and the savings of their members. Currently, 84 Panama credit unions belong to COFEP, which represents 112,000 of the 135,000 credit union members of those who live Panama.
World Council of Credit Unions is the global trade association and development agency for credit unions. World Council promotes the sustainable development of credit unions and other financial cooperatives around the world to empower people through access to high quality and affordable financial services. World Council advocates on behalf of the global credit union system before international organizations and works with national governments to improve legislation and regulation. Its technical assistance programs introduce new tools and technologies to strengthen credit unions' financial performance and increase their outreach.
World Council has implemented 300+ technical assistance programs in 89 countries. Worldwide, 68,882 credit unions in 109 countries serve 235 million people. Learn more about World Council's impact around the world at www.woccu.org.