Respected Microfinance Leader Joins World Council of Credit Unions
February 09, 2007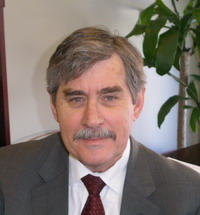 (above) Barry Lennon, newest member of WOCCU's senior management team
Madison, WI—Barry Lennon, a well respected leader in the international microfinance community, joined World Council of Credit Unions (WOCCU) this week as part of senior management. Lennon will head up WOCCU's Washington, DC office and act as a liaison with international donors.
Mr. Lennon comes to World Council after a distinguished 26-year career with United States Agency for International Development (USAID). Most recently, Mr. Lennon was the Senior Financial Advisor and Team Leader in USAID's Microenterprise Development Office where he provided technical support to USAID missions throughout the world in the design and evaluation of their microfinance programs.
During his tenure in Washington, Mr. Lennon developed and managed microfinance grant competitions and completed microfinance institutional appraisals, market assessments and program designs in Africa, Asia, Latin America, Eastern Europe, the Middle East and Central Asia. Prior to joining the Microenterprise Office, he spent 14 years with USAID in Guatemala and Honduras designing and managing financial service programs for poor and low- income households. Lennon also spent six years with the Peace Corps in Guatemala and Mali working with cooperatives providing savings and loan services in rural areas.
Pete Crear, World Council CEO noted, "We are excited to have Barry join the World Council of Credit Unions development team. For years, we have worked collaboratively in the roles of donor and implementer to build stronger financial systems and provide access to affordable financial services to people around the world." Crear continued, "We are happy to take this next step and bring such an experienced and practiced individual on board."
A long-time champion of the credit union approach to broadening and deepening access to financial services, Lennon explained, "From a donor perspective, I have had a unique opportunity to work with many different institutional approaches to the opening of financial markets. I have seen the impact and the potential that well-run credit unions can have on poor and low-income households in the developing world, and I am proud to join the WOCCU team. I look forward to building upon and adding to the innovative work that has already been done by the World Council."
To learn more about World Council of Credit Unions development initiatives, visit the www.woccu.org/dev.
World Council of Credit Unions is the global trade association and development agency for credit unions. World Council promotes the sustainable development of credit unions and other financial cooperatives around the world to empower people through access to high quality and affordable financial services. World Council advocates on behalf of the global credit union system before international organizations and works with national governments to improve legislation and regulation. Its technical assistance programs introduce new tools and technologies to strengthen credit unions' financial performance and increase their outreach.
World Council has implemented 300+ technical assistance programs in 89 countries. Worldwide, 68,882 credit unions in 109 countries serve 235 million people. Learn more about World Council's impact around the world at www.woccu.org.