Rural Lending Supports Guatemala's Economic Growth
World Council project promotes credit union outreach to farmers
February 15, 2012
JALAPA, Guatemala — In light of the changing global economy, credit unions in Guatemala are ramping up rural lending strategies to financially strengthen the agricultural sector and help grow the country's overall economy. Through a pilot program implemented by World Council of Credit Unions in partnership with Federación de Nacional de Cooperativas de Ahorro y Crédito (FENACOAC), its Guatemalan member, farmers are experiencing greater financial stability through their credit unions' support.

The five-year Cooperative Development Program (CDP), also operating in Mexico, is supported by US$4 million in funding from the U.S. Agency for International Development. The program, which runs through 2015, focuses on creating and testing agricultural and financial tools to improve rural economic and financial sector development, personal income and food security. Program results will include a scalable methodology to increase small farmers' access to markets, inputs and technical assistance. Participating farmers are expected to increase production, improve their livelihoods and offer better financial support to their communities.

"The CDP program at work both here and in Mexico combines new methodologies and technological delivery of financial services to help small Latin American farmers succeed," said World Council President and CEO Brian Branch, who led a delegation to both countries last week to evaluate the pilot program's progress since it began in 2010. "With FENACOAC's assistance, we can more effectively help Guatemalan credit unions implement the program among their rural members."

World Council and FENACOAC are currently carrying out the program through four credit unions. Cooperativa Tonantel, a credit union located in Guatemala's Jalapa region, is already realizing the benefits of investing in the rural economy. Tonantel last year added agricultural lending to its portfolio and lowered its interest rates on loans. Membership has since grown by 30% to 70,000 members, and loan delinquency now stands at just 1%.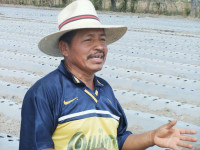 Farmer Ángel María Najera Vicente describes how the production of French beans (in background) provides a good return because he and other farmers in his group are able to use loans from Cooperativa Tonantel to cover costs for inputs, labor and maintenance.
Part of the growth has to do with Tonantel's mobile technology strategies, which involve equipping an on-staff agronomist with a laptop computer, wireless network card and mobile printer to provide financial services to the farmers in their homes and in the fields where they work. The credit union also is piloting relationships with 18 agent banking outlets located within local member businesses. The businesses effectively operate as credit unions branches, offering member enrollment, deposit withdrawal, bill payment and other services through a designated laptop. Transactions through these remote sites total nearly 400 per month, or about 22 per location.

Low-interest credit union loans also enable farmers to comply with good agricultural practices that assure greater integrity of the products produced and fewer detrimental environmental impacts from farming operations. Farmers in Mexico who are participating in the CDP program are learning to produce organic coffee in environmentally sustainable ways, which will likely fetch higher market prices. Participating Guatemalan farmers are seeking similar results.

"The CDP program helps farmers operate more effectively and in ways that offer good economic outcomes and positive environmental impacts," Branch said. "We believe the success of this model can be put to effective use in other developing countries."

Learn more about the visit at Branch's blog, http://makingadifference.sqsp.com/. For more information about World Council's CDP program, visit http://improveruralincome.woccu.org.

The U.S. Agency for International Development administers the U.S. foreign assistance program providing economic and humanitarian assistance in more than 120 countries worldwide.
World Council of Credit Unions is the global trade association and development agency for credit unions. World Council promotes the sustainable development of credit unions and other financial cooperatives around the world to empower people through access to high quality and affordable financial services. World Council advocates on behalf of the global credit union system before international organizations and works with national governments to improve legislation and regulation. Its technical assistance programs introduce new tools and technologies to strengthen credit unions' financial performance and increase their outreach.
World Council has implemented 300+ technical assistance programs in 89 countries. Worldwide, 68,882 credit unions in 109 countries serve 235 million people. Learn more about World Council's impact around the world at www.woccu.org.