SWAMI Alumni Share Best Practices with Program Participants
July 06, 2006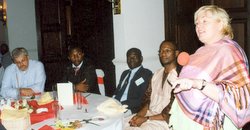 (L-R) Rick Myxter, representing Kenya's International Partner, the Pennsylvania Credit Union Association, graduating SWAMI class officer Kusi Boachie, tier 2 student Isaac Sam-Cudjoe, WOCCU's Erick Sile and SWAMI founder Anne Cochran.
NAIROBI, Kenya—The Strathmore-WOCCU African Management Institute (SWAMI) held its first "best practices" session with SWAMI alumni on June 23 in Nairobi, Kenya. More than 70 Savings and Credit Cooperatives (SACCO) managers and board members from Kenya, Rwanda, Uganda, Ghana, Malawi, Botswana, South Africa and Swaziland gathered to hear from SWAMI alumni and honored guests on a variety of topics and success stories relevant to best practices.
SWAMI was developed by WOCCU and Strathmore University of Nairobi to prepare senior SACCO management staff, aspiring managers and board members to handle the challenges SACCOs face in today's changing environment. It is a three-tier program that intertwines training and practical application. In November 2005, 38 students of the first SWAMI graduating class received the Certified SACCO Professional pin.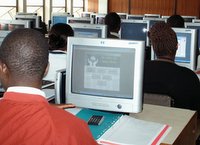 Tier 1 PEARLS training for SACCO managers.
The recent best practices session in Nairobi was designed to promote continued alumni involvement with the program. As such, alumni presented on topics that had directly benefited their SACCOs due to the education they gained in SWAMI. Also contributing to the session were Professor David Sperling of Strathmore University, Zachary Ratemo of USAID Kenya, Catherine Ford, WOCCU's Cooperative Development Program Director and SWAMI scholarship program manager, Erick Sile, WOCCU's Technical Officer for Africa, and Anne Cochran, president of the Louisiana Credit Union League and original founder of SWAMI.
During the session, Samuel Lemeiruko, board member of Kenya Bankers SACCO, presented on the relevance of effective policy development and implementation, which he has put into practice since learning at SWAMI.
Elias Langi, board member of Gertrude's Children's Hospital SACCO, spoke on the topic of effective IT management and addressed how his participation in SWAMI helped him to better assess and manage the various IT needs of his SACCO.
Rukuriri Tea SACCO Manager Moses Nyaga presented on best practices by testifying to the strength of the SWAMI program and how it has helped him become a better manager.
Lemeiruko, Langi and Nyaga were graduates of the first SWAMI class in November 2005.
Kusi Boachie, June 2006 SWAMI graduate and class president, concluded the session by stressing the importance of networking and encouraging a strong, continent-wide SACCO movement by supporting similar alumni activities.
Angelica Kiboro, Strathmore's Director of Continuing Education, was very pleased with the continued popularity of the SWAMI program. "We are growing every session, with managers and board members from several countries throughout Africa," she said. "We are very encouraged by the growing success of the program and the increasing role our alumni groups will have in promoting safe and sound SACCOs throughout Africa."
WOCCU has received program funding to support the SWAMI Program from the CUNA Mutual Group Foundation and the US Agency for International Development Cooperative Development Program. Scholarships and travel awards to assist students' participation from credit union movements around Africa come from many support organizations and individuals:
Organizations:
African American Credit Union Coalition (2005, 2006)
American Heritage Federal Credit Union (2004, 2005, 2006)
BF Goodrich Federal Credit Union (2006)
Canadian Cooperative Association (2005)
Florida Central Credit Union (2006)
Irish League of Credit Unions' Foundation (2006)
Louisiana Credit Union League (LCUL) (2004, 2005, 2006)
Pennsylvania Credit Union Association (PCUA) (2004,2005, 2006)
Southeast Regional Credit Union Schools (2004, 2005, 2006)
Washington Credit Union Foundation (2006)
Individual contributors:
Jim Lyman (2006)
Rick Myxter (2005)
World Council of Credit Unions is the global trade association and development agency for credit unions. World Council promotes the sustainable development of credit unions and other financial cooperatives around the world to empower people through access to high quality and affordable financial services. World Council advocates on behalf of the global credit union system before international organizations and works with national governments to improve legislation and regulation. Its technical assistance programs introduce new tools and technologies to strengthen credit unions' financial performance and increase their outreach.
World Council has implemented 300+ technical assistance programs in 89 countries. Worldwide, 68,882 credit unions in 109 countries serve 235 million people. Learn more about World Council's impact around the world at www.woccu.org.