Sinek Puts Credit Union Leadership Under a Microscope
World Credit Union Conference speaker reveals CU success through biology of human decision making
July 18, 2013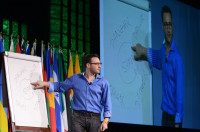 Simon Sinek opted for a flipchart rather than a Powerpoint presentation at Wednesday's general session, during which he gave a crash course on the brain's chemicals and how a balance of endurance, accomplishment, pride, trust and safety in the workplace lead to optimal performance.

OTTAWA, Canada — It is no secret that a credit union's success starts from the top down, according to Simon Sinek, author of
Start With Why: How Great Leaders Inspire Everyone to Take Action
and closing speaker for World Council of Credit Unions'
World Credit Union Conference
in Ottawa, Canada, yesterday. The secret to corporate leadership, he said, lies in a lesson on the primary chemicals responsible for happiness.
"Inside our bodies are incentives trying to encourage us to repeat behavior that is in the best interest of ourselves and of our groups," said Sinek, who is best known for his theory of the "Golden Circle," a naturally occurring pattern that is grounded in the biology of human decision making and explains why we are inspired by some people and organizations more than others. "We are naturally cooperative animals when we are in the right environments."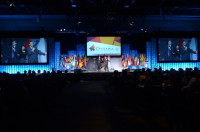 Music and comedy act the Water Coolers performed original songs about daily credit union life.

Through a crash course on the brain's endorphins, dopamine, serotonin and oxytocin, Sinek revealed that human beings perform best together when they all experience a balance of endurance, accomplishment, pride, trust and safety in the workplace. Leaders, he said, become responsible for instilling this type of work environment at their credit unions.
"If you want to enjoy the perks of leadership, you must be willing to sacrifice yourself to protect your people," Sinek said. "The best leaders are the ones who act like parents. What do we want as parents? We want to provide opportunity, education and discipline as necessary, all so that our kids can grow up and achieve more than we ever thought was possible for ourselves. It's the exact same thing for a good boss. We commit ourselves to protection and love, and give our time and energy to see that our employees do well."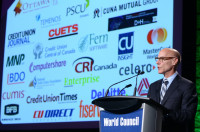 World Council Director Patrick Jury, master of ceremonies at Wednesday's session, thanked the 2013 World Credit Union Conference sponsors.
Although the world is constantly filled with danger, Sinek said, the dangers felt inside credit unions are variable. When employees feel safe internally, the chemicals for happiness are balanced, which leads to cooperation, trust, innovation and progress. Work environments in which staff feels unsafe are dangerous to the wellbeing of employees and the credit union as a whole. Stress, which releases a hormone called cortisol, is contagious and leads to paranoia and self-interest, hampering the desire to protect and cooperate with each other.
"Our jobs are literally killing us because we're not feeling safe," Sinek said.
One of the best ways to reduce stress is empathy, Sinek continued. "Do something nice for someone. Instead of sending an email, pick up the phone. The care and time you give is the only way to actually share these good feelings. It makes you healthier, happier and inspires people to help you."
Attendees have continued sharing lessons learned from the conference on Twitter using the conference hashtag (#WCUC2013). Yesterday's closing general session included the following highlights:
The general session opened with World Council's debut video, "Building a Global Community" and closed with a sneak peak music and comedy act from the Water Coolers, who later performed at the closing ceremony, including original songs about daily life at a credit union and what to expect for the remainder of the conference. Prior to the general session, attendees explored leadership challenges in emerging credit union systems, social media marketing, grassroots advocacy, strategic financial planning and wealth management for members during morning breakout sessions.
The 2013 World Credit Union Conference concluded July 17 with World Council's annual awards ceremony, combined this year with Credit Union Central of Canada's annual credit union awards, followed by a closing night reception at the Canadian Museum of Civilization.
Review conference activities, including daily event photos, on World Council's Facebook and Twitter pages at www.facebook.com/WOCCU and www.twitter.com/WOCCU using #WCUC2013.
World Council of Credit Unions is the global trade association and development agency for credit unions. World Council promotes the sustainable development of credit unions and other financial cooperatives around the world to empower people through access to high quality and affordable financial services. World Council advocates on behalf of the global credit union system before international organizations and works with national governments to improve legislation and regulation. Its technical assistance programs introduce new tools and technologies to strengthen credit unions' financial performance and increase their outreach.
World Council has implemented 300+ technical assistance programs in 89 countries. Worldwide, 68,882 credit unions in 109 countries serve 235 million people. Learn more about World Council's impact around the world at www.woccu.org.
NOTE: Click on photos to view/download in high resolution.