Southwest Corporate, Belize CU League Forge Partnership
January 18, 2008
Madison, Wis.—Representatives from Southwest Corporate Federal Credit Union in Plano, Texas, traveled to Belize last week to lay the foundation for an international partnership with the Belize Credit Union League, the first such relationship between an international association and a corporate credit union in the United States. The new partnership is the most recent of the 25 partnerships established through World Council of Credit Unions' (WOCCU's) International Partnership program. WOCCU's other partnerships exist between international credit union associations and U.S. credit union leagues.
Corporate credit unions offer services that allow natural-person credit unions to better meet member needs, according to Victor Miguel Corro, WOCCU's International Partnerships manager. By sharing information about topics such as payment systems, ALM training, interconnectivity and wire transfers, the two organizations will establish a relationship based on topics more technical in nature. Credit union leagues, on the other hand, play a bigger role in mounting advocacy efforts on the part of their partner organizations. As with leagues, Corro added, the benefits of the relationship between the two groups will travel in both directions.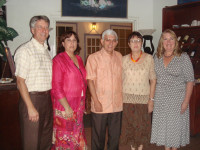 Belize Prime Minister Said Wilbert Musa (center) attended a social gathering of the Belize Credit Union League, along with representatives from Southwest Corporate and all 13 Belize credit unions. Pictured (left to right): Southwest Corporate staff Bob Rehm, SVP of sales and marketing, and Kathy Garner, president of northwest regional office; Prime Minister Musa and his wife Joan; and Lisa Thomas, Southwest Corporate product manager.
"Since corporate credit unions are removed from the general public and deal with credit unions on an business-to-business basis, Southwest Corporate may benefit by seeing how WOCCU approaches credit union development and how committed the Belize movement is to social responsibility projects," Corro explained.
Corporate credit unions already are actively participating in international partnerships, said Corro. The new relationship between Southwest Corporate and the Belize League will be the first to allow a corporate credit union to directly cooperate simultaneously with a foreign league and credit unions.
A Southwest Corporate delegation on Jan. 9 traveled with Corro to Belize to meet with league members. Participants included Southwest Corporate's Kathy Garner, president of the credit union's northwest regional office; Lisa Thomas, product manager; and Bob Rehm, senior vice president of sales and marketing.
Delegation members visited 12 of Belize's 13 credit unions to familiarize themselves with the institutions' technical needs. The technical visits provided the representatives with insight into the issues that Belize credit unions face and areas in which Southwest Corporate will be able to offer assistance. The League also organized a social gathering that included Belize Prime Minister Said Wilbert Musa and his wife Joan, as well as representatives of the country's 13 credit unions.
"This visit clarified the importance of corporate credit unions and confirmed the partnership's great potential," said Natalie Goff, the Belize League's executive director. "Most of the services that Southwest Corporate offers are applicable in the league. The credit unions in Belize can also transfer a lot of knowledge to U.S. credit unions, especially in community outreach."
A reciprocal visit to the U.S. by the Belize League members is in the works for mid-summer this year.
World Council of Credit Unions is the global trade association and development agency for credit unions. World Council promotes the sustainable development of credit unions and other financial cooperatives around the world to empower people through access to high quality and affordable financial services. World Council advocates on behalf of the global credit union system before international organizations and works with national governments to improve legislation and regulation. Its technical assistance programs introduce new tools and technologies to strengthen credit unions' financial performance and increase their outreach.
World Council has implemented 300+ technical assistance programs in 89 countries. Worldwide, 68,882 credit unions in 109 countries serve 235 million people. Learn more about World Council's impact around the world at www.woccu.org.