Sri Lanka CU Leader Gives Update At WOCCU's International Reception
March 04, 2005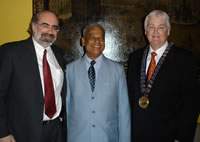 (l-r) Brian Branch, WOCCU president and CEO (Interim); Dr. Kiriwandeniya, SANASA board chairman; and L.R. (Bobby) McVeigh WOCCU board chairman at the International Reception in Washington, DC
Madison, WI—During the World Council of Credit Unions, Inc. (WOCCU) International Credit Union Reception, Dr. P.A. (Kiri) Kiriwandeniya, chairman of the SANASA Development Bank–the national association for credit unions—gave an update of the Sri Lanka tsunami disaster relief efforts to rebuild credit unions. He addressed over 300 WOCCU Supporters, who gathered at the event held at the Italian Embassy in Washington, DC to show their support for international credit union development.
Kiriwandeniya opened his comments by sharing his gratitude with the United States credit union movement and those from other countries that have and are supporting the disaster relief efforts in his country. He pledged that SANASA would rebuild the system and help existing members through this tragedy. He also shared how credit unions were some of the first groups helping provide humanitarian relief, providing clothing, shelter and other necessary items to those affected.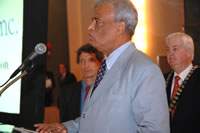 Dr. P.A. (Kiri) Kiriwandeniya speaking at the Italian Embassy.
Hearing first-hand from Dr. Kiriwandeniya how the contributions of America's credit unions through the National Credit Union Foundation will help in the rebuilding of the credit union movement in Sri Lanka was heartening," stated Mary Cunningham, NCUF chairman and CEO of USA Federal Credit Union in San Diego. "The support we have seen from credit unions truly shows how credit unions are different—different by design."
John Ikeda, WOCCU project development manager explained, "Gathering information in Sri Lanka is still a slow and difficult process. It could take over a year to rebuild the physical locations, but it will take years to rebuild the economy."
Other reception speakers included Italian Minister Stefano Stefanini; L. R. (Bobby) McVeigh, WOCCU board chairman; WOCCU president and CEO (Interim), Dr. Brian Branch and Mary Cunningham, NCUF board chairman.
To date close to $600,000 has been raised to help rebuild credit unions in Sri Lanka through the Worldwide Foundation for Credit Unions and the National Credit Union Foundation. Construction to rebuild four destroyed credit unions is already underway and more are soon to follow.
For more information on the Tsunami Disaster Relief efforts visit World Council's website at www.woccu.org.
World Council of Credit Unions is the global trade association and development agency for credit unions. World Council promotes the sustainable development of credit unions and other financial cooperatives around the world to empower people through access to high quality and affordable financial services. World Council advocates on behalf of the global credit union system before international organizations and works with national governments to improve legislation and regulation. Its technical assistance programs introduce new tools and technologies to strengthen credit unions' financial performance and increase their outreach.
World Council has implemented 300+ technical assistance programs in 89 countries. Worldwide, 68,882 credit unions in 109 countries serve 235 million people. Learn more about World Council's impact around the world at www.woccu.org.