The Global Classroom: Experience, Enlighten, Excel
World Council expands opportunities for international exchange
April 05, 2018
MADISON, Wis. — The World Council of Credit Unions has restructured its menu of educational opportunities under the umbrella of The Global Classroom Initiative. This new format expands opportunities for credit union professionals to explore impactful initiatives, establish international relationships and address the shared challenges facing financial cooperatives around the world. Encompassing a variety of educational and networking activities - including immersion and e-learning programs, regional workshops, mini-summits, youth leadership exchanges and partnership collaboration – The Global Classroom creates a unique environment for learning and networking.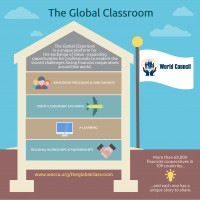 "The Global Classroom leverages World Council's role as a bridge between financial cooperatives around the world," said Thomas Belekevich, Program Manager at World Council, "cultivating credit unions' inherent willingness to cooperate by connecting prominent organizations within the sector with international colleagues seeking new ideas for improving financial services in their communities."
This dynamic is most evident in World Council's Immersion Programs which turn hosting credit union organizations into centers of knowledge, where staff become ambassador-mentors, sharing best practices and insight on their organization's success. In recent years, World Council has facilitated dozens of Immersion Programs around the globe highlighting topics ranging from grassroots advocacy to core banking solutions and financial education initiatives.
This year, World Council expands opportunities for a two-way dialog with visiting delegations through a series of Mini-summits, where local credit unions are invited to join a facilitated discussion on shared challenges facing financial cooperatives globally. These Mini-summits represent a robust setting for credit union professionals from diverse backgrounds, cultures and perspectives to explore wide-ranging issues, from strategies for maintaining relevance with the next generation of members to small credit union sustainability and collaborative initiatives. During this exchange of ideas, Mini-summit participants are exposed to enlightening new perspectives with the potential to break the status quo and examine new ways of approaching old problems.
The Global Classroom relies upon an expansive network of dedicated volunteers with a willingness to share their experience. Each year, World Council collaborates with member organizations to provide regional learning opportunities where volunteer specialists share their knowledge of relevant trends and current issues. Regional Workshops and Partnership exchanges planned for this year will focus on the member journey, collaboration with fintech, blockchain technology and expanding service through innovation.
The Global Classroom provides World Council's credit union constituents access to expanded opportunities to learn, explore, educate and network with credit unions around the world. To find out more about how you or your credit union organization can be a part of The Global Classroom – as a participant, host or volunteer – visit http://www.woccu.org/theglobalclassroom.
World Council of Credit Unions is the global trade association and development platform for credit unions. World Council promotes the sustainable development of credit unions and other financial cooperatives around the world to empower people through access to high quality and affordable financial services. World Council advocates on behalf of the global credit union system before international organizations and works with national governments to improve legislation and regulation. Its technical assistance programs introduce new tools and technologies to strengthen credit unions' financial performance and increase their outreach.
World Council has implemented 300+ technical assistance programs in 89 countries. Worldwide, 89,026 credit unions in 117 countries serve 260 million people. Learn more about World Council's impact around the world at www.woccu.org.