Top Global CU Leaders Honored in Ottawa: Crear, Edwards, Fay Receive Distinguished Service Award
Five young professionals earn scholarships to 2014 World Credit Union Conference
July 18, 2013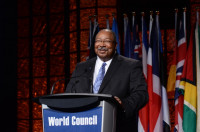 Pete Crear, former World Council president and CEO and Credit Union National Association (USA) executive, received the 2013 Distinguished Service Award.
OTTAWA, Canada — Credit union movement veterans Pete Crear, Melvin Edwards and Pat Fay received World Council of Credit Unions' Distinguished Service Award, the industry's top global honor, at the
2013 World Credit Union Conference
closing ceremonies in Ottawa, Canada, on Wednesday. Five young credit union leaders also received scholarships through World Council's Young Credit Union Leadership People (WYCUP) program, and 12 International Credit Union Development Educators were recognized for their achievements during World Council's annual awards ceremony.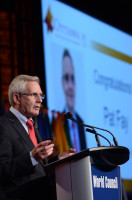 Pat Fay, Irish League of Credit Unions director and international credit union advocate, received the 2013 Distinguished Service Award.
Crear, a former Credit Union National Association (CUNA) executive vice president and chief operating officer, served as World Council president and CEO from 2005–2011, during which time the organization spearheaded disaster relief to earthquake victims in Haiti and established the first credit unions in Afghanistan. He began his credit union career as a junior auditor at the Michigan Credit Union League and also served at the helm of state credit union leagues in Connecticut and Indiana.
"When I started in the credit union movement, I was a management trainee. It has been a pretty long journey," Crear shared with the crowd of more than 2,000 credit union representatives from around the world. "It doesn't matter where you start. It matters where you finish."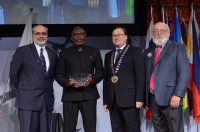 Melvin Edwards (second from left), former chair of World Council and the Caribbean Confederation of Credit Unions, received the 2013 Distinguished Service Award from World Council representatives (from left) Brian Branch, president and CEO; Grzegorz Bierecki, chair; and Scott Kennedy, director.
Edwards, a St. Kitts and Nevis native, was the first Caribbean representative to serve as World Council chair (2007–2009). His development service included the foundation of St. Kitts Cooperative Credit Union, leading the Caribbean Confederation of Credit Unions as chair and working with a variety of development agencies, including the U.S. Agency for International Development. He reminded attendees of the need for good leadership among credit union systems worldwide.
"It was not just symbolic on Monday to see Manuel Rabines from Peru hand over the World Council chair's chain to Grzegorz Bierecki from Poland," Edwards said. "What SKOK [Poland's credit union system] has achieved in a very short period of time of 20 years is another tribute to the possibilities that youth inspired by the elders can achieve."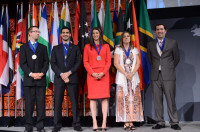 2013 WYCUP winners were (from left) Benjamin Janzen (Canada), Eber Ostemberg (Brazil), Caroline Domanski (United Kingdom), Jenn Vandehaar (Canada) and Christopher Morris (USA). 
Fay's 40-year commitment to credit unions helped strengthen and grow not only his national credit union association, the Irish League of Credit Unions (ILCU), but also credit unions from emerging countries around the world. He worked his way up the ILCU ranks and served as chief operations officer, during which time he introduced numerous measurement and risk assessment tools that helped member credit unions safely serve their members. Though retired, Fay continues to serve on ILCU's board of directors. He impressed upon the audience the importance of cooperation among institutions in achieving success.
"The one wish that I have for the worldwide credit union movement, and particularly for the movement in Ireland, is that at an institutional level we cooperate," Fay said. "By doing that, we can do far more than we can individually."
In addition to DSA honors, World Council awarded scholarships to five participants in World Council's Young Credit Union People (WYCUP) program. The following scholarship winners earned all-expense-paid attendance to next year's World Credit Union Conference in Gold Coast, Australia:
Caroline Domanski, No1 CopperPot Credit Union (United Kingdom)
Christopher Morris, National Credit Union Foundation (USA)
Benjamin Janzen, Mennonite Savings and Credit Union (Canada)
Eber Ostemberg, Sicredi Noroeste MT (Brazil)
Jenn Vandehaar, Healthcare & Municipal Employees' Credit Union (Canada)
World Council Director Scott Kennedy, who presented the awards, praised the WYCUP nominees and winners: "These kids are our future, and our future is secure."
Members of the National Credit Union Foundation's Development Educator program who had earned their International Credit Union Development Educator designation, which required international training, were also recognized during the ceremony. Recipients included Beth Bruesch, Peterborough Community Credit Union, Canada; Courtney Moran, Texas Credit Union League, USA; Frank Diekmann, Credit Union Journal, USA; Mary Beth Spuck, Twin Star Credit Union, USA; David C. Richardson, World Council of Credit Unions, USA; Theresa Hilinski, The Cooperative Trust, USA; Lennox A. Bowman, General Employees Cooperative Credit Union Ltd., Caribbean; Micah Taze Davis, BIU Members Credit Union Co-op Society, Caribbean; Corinne Glasgow, Partners Credit Union Ltd., Caribbean; Colleen Bernabé, Central Co-operative Credit Union Ltd., Caribbean; Tracy Fletcher, Partners Credit Union Ltd., United Kingdom; Elenita V. San Roque, Asian Confederation of Credit Unions, Thailand.
Conference co-hosts Credit Union Central of Canada (CUCC) also presented its annual National Credit Union Awards for community economic development, innovation, leadership by young credit union professionals and lifetime contribution by a credit union system leader. Vancity credit union received the National Credit Union Community Economic Development Award for its Resilient Capital ProgramTM, which provides financial solutions to social enterprises and mission-based businesses to support their growth.
The 2013 World Credit Union Conference ended July 17. Visit www.Ottawa2013.org to download 2013 World Credit Union Conference presentations, news and photos. The 2014 World Credit Union Conference will take place July 27–30, 2014, in Gold Coast, Australia. See www.GoldCoast2014.org for more information.
World Council of Credit Unions is the global trade association and development agency for credit unions. World Council promotes the sustainable development of credit unions and other financial cooperatives around the world to empower people through access to high quality and affordable financial services. World Council advocates on behalf of the global credit union system before international organizations and works with national governments to improve legislation and regulation. Its technical assistance programs introduce new tools and technologies to strengthen credit unions' financial performance and increase their outreach.
World Council has implemented 300+ technical assistance programs in 89 countries. Worldwide, 68,882 credit unions in 109 countries serve 235 million people. Learn more about World Council's impact around the world at www.woccu.org.
NOTE: Click on photos to view/download in high resolution.