Two CUs Bring Member-owned ATMs to Remote Areas of Mexico
Debit Cards Will Connect Members to National Banking Network
January 20, 2010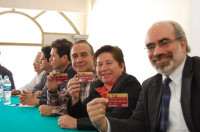 Luis Jara Pullas, WOCCU program director for Mexico; Dolores Rivera Ramírez, general manager of Caja Zongolica; and Brian Branch, WOCCU executive vice president and COO, show off the credit union's new debit cards at a press conference on Friday.

CÓRDOBA, Mexico — This past weekend, two credit unions in Mexico became the first rural financial cooperatives in the country to bring fee-free automatic teller machines (ATMs) and debit cards to their members. It is a landmark achievement for Caja Zongolica and Caja Yanga, credit unions that serve highly marginalized areas of the country. Both credit unions participate in World Council of Credit Unions' development program in Mexico, funded by the Mexican Ministry of Agriculture, Livestock, Rural Development, Fishing and Food (SAGARPA) through its Proyecto de Asistencia Técnica al Microfinanciamiento Rural (PATMIR) project.
"We've learned how necessary it is to have a well run institution, but it's not enough," Brian Branch, WOCCU executive vice president and COO, told the group gathered for Caja Yanga's ATM inauguration. "We need to bring financial services to members where they are — in their homes, businesses, rural areas — when they need it. Technology is the key to member service, and Caja Yanga and Caja Zongolica are examples for rural credit unions everywhere."
Caja Yanga's new ATM machine will give members access to funds 24 hours per day.

Zongolica is an indigenous region, one of the poorest and most marginalized in Mexico. It is best known for its coffee production and the beauty of its remote yet vast mountainous terrain. Despite the sporadic downpours on Friday, hundreds of members gathered under a large tent in Zongolica's main square to celebrate with speeches, traditional dances and songs.
"When the members saw the construction for the ATM installation [at the credit union], they asked me whose it was and which bank it belonged to," said Dolores Rivera Ramírez, general manager of Caja Zongolica. "We are very proud that this credit union in the mountain was the first to employ this type of technology."
Today, 16-year-old Caja Zongolica's seven branch offices boast a growing membership of more than 20,000. Rivera Ramírez said the new technology complements their growing portfolio of services and, while technology can seem "cold" without face-to-face interaction, the ATMs — open 24 hours — stimulate savings and save members time. Caja Zongolica's ATMs are currently on a closed network. The credit union hopes to connect with a national banking network later this year.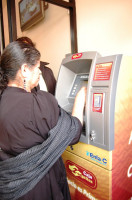 Rosa Pérez Tlaxcala, a founding member of Caja Zongolica, was the first to use the credit union's ATM.

For founding member Rosa Pérez Tlaxcala, 63, having an ATM at Caja Zongolica means she no longer has to wait an hour to withdraw money from a teller inside the credit union. Pérez Tlaxcala was the first member to use the ATM at Zongolica's branch office, withdrawing 200 pesos (US$15) from her savings account. She said she was very proud that the credit union was modernizing, and she looked forward to accessing her account from an ATM outside of Zongolica as the network expanded. Later this year, Caja Zongolica will implement point-of-sale (POS) devices in local businesses to sell air time for cellular phones, and its field officers will begin using personal digital assistant (PDA) devices to access account information and perform financial transactions when they visit members.
Just 74 km. (45 miles) to the north, Caja Yanga will become the first rural credit union to join a national banking network when it connects to Promoción y Operación, S.A. de C.V. (PROSA), a clearinghouse for electronic bank and credit card transactions in Latin America, later this year. The move will mean that the credit union's 40,000 members will be able to access their money and make purchases using their Caja Yanga debit card at any ATM or business throughout the country.
"[The ATM project] brings quality services to members 24 hours a day, 365 days a year," said Eduardo Rojas Camacho, board president of Caja Yanga. "It's very difficult to express what this means for members."
The credit union celebrated the official launch of its first ATM on Saturday and showcased how its field officers are currently using 35 PDAs to perform transactions when visiting members in 317 remote communities in Veracruz state. Field officers performed 80,960 online financial transactions on the PDAs in 2009.
Margarito Saavedra Morales, general manager of Caja Yanga, told the crowd gathered at the inauguration, "Caja Yanga wants to be a part of bringing financial services to people living in poverty in rural areas in a way that improves their quality of life and the economic development of our country."
Currently, Caja Zongolica and Caja Yanga members are able to use the ATMs for withdrawals, balance inquiries, accessing a history of transfers and changing their personal identification numbers (PINs). In the near future, members will be able to purchase air time for their cellular phones and transfer money from their savings to pay for loans and utilities using the ATM.
Both credit unions worked with Enla-C, a credit union services group wholly owned by WOCCU, credit union associations and individual credit unions in Mexico, to achieve the necessary levels of compliance and security with the lowest possible commission rates. Enla-C exists to serve financial cooperatives and to provide them options. It achieves economies of scale with the demands of its shareholders and is thereby able to offer products such as debit cards at discounted rates, making the buy-in for small credit unions much more affordable.
Both Caja Zongolica and Caja Yanga will have fully operational ATMs in three branch offices within the next several weeks. In addition to the ATM in Zongolica, Caja Zongolica has installed ATMs in Tequila and Atlahuilco, and Caja Yanga has ATMs in Yanga, Córdoba and Cuitlahuac. Another credit union, Caja Las Huastecas, will install ATMs in rural Queretaro (northern Mexico) later this year.

World Council of Credit Unions is the global trade association and development agency for credit unions. World Council promotes the sustainable development of credit unions and other financial cooperatives around the world to empower people through access to high quality and affordable financial services. World Council advocates on behalf of the global credit union system before international organizations and works with national governments to improve legislation and regulation. Its technical assistance programs introduce new tools and technologies to strengthen credit unions' financial performance and increase their outreach.
World Council has implemented 300+ technical assistance programs in 89 countries. Worldwide, 68,882 credit unions in 109 countries serve 235 million people. Learn more about World Council's impact around the world at www.woccu.org.