U.K. Government Stresses Credit Union Reform
ABCUL, CUNA, World Council review possible models for collaboration and growth
June 06, 2012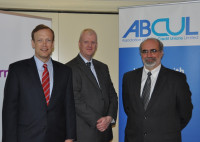 CUNA President and CEO Bill Cheney (left) and World Council President and CEO Brian Branch (right) shared insights on global credit union systems with ABCUL Chief Executive Officer Mark Lyonette as possible alternatives to help credit unions in the United Kingdom grow.
MANCHESTER, England — The government of the United Kingdom says that 1 million more U.K. residents across a range of income levels could benefit from a strengthened credit union system over the next seven years. However, the country's credit unions would have to expand their markets and modernize the way they do business to reach a wider population. Credit Union National Association (CUNA) President and CEO Bill Cheney and World Council of Credit Unions President and CEO Brian Branch visited the United Kingdom this week to share possible scenarios that may aid in the country's credit union system evolution.

According to a study released May 10 by the U.K. government's Department of Work and Pensions (DWP), some 1.4 million low-income residents lack transactional financial accounts; 4 million residents pay some form of bank fees; and up to 7 million tap sources of high-cost credit, which drives many of them further into debt. The report noted that the country's credit unions, mostly small local institutions, already have credibility among the low-income population. A strengthened and expanded credit union system would put the local institutions in good position to both meet the needs of consumers at a variety of income levels and significantly expand market penetration, according to Branch.

"Collaborative models exist within the global credit union system that could be highly applicable to credit unions in the U.K.," said Branch, who with Cheney met with staff from the Association of British Credit Unions Ltd. (ABCUL), World Council's U.K. member, and other financial cooperative groups last week to discuss the issue. "Credit unions in the U.K. are well-positioned to significantly increase their public presence and their member service levels."

The DWP report stressed the need for credit unions to introduce automated processing systems that reduce operating costs and increase the availability of services, as well as the need to attract a broader range of members to increase financial stability and offer more services — including a wider array of loans. As possible alternatives to help meet DWP's demands, Branch discussed ABCUL collaborative credit union systems that operate from single back offices and market financial services under a unified national brand.
"Credit unions collaborate to achieve scale, create efficiencies and maximize investments in technology," Branch said. "Centralizing and outsourcing services can reduce costs and allow small credit unions to implement programs that they could not otherwise do."

Cheney shared the strengths of U.S credit unions. CUNA, World Council's U.S. member, represents one of the world's largest credit union systems with 7,200 distinct institutions, 95 million members and US$1 trillion in assets.

"Credit unions are member-owned cooperatives, so when our system operates more efficiently, those benefits flow directly to our members," Cheney explained. "We've seen the results both in terms of how much U.S. credit union members save in better rates and lower fees using credit unions rather than banks — currently more than US$6 billion a year — and in the recent surge of new people joining credit unions."
Cheney noted that the growth of collaborative efforts, such as nationwide surcharge-free ATM networks, shared branching networks and other service and support mechanisms offered through credit union service organizations (CUSOs), have helped increase the U.S. credit union system's efficiency. By embracing products and services that offer low-cost alternatives to payday loans and financial literacy or counseling programs, credit unions become more attractive to a wider array of people, including those with lower incomes.

In addition to ABCUL, Branch and Cheney also met with representatives of the DWP, Her Majesty's Treasury and several credit unions to discuss potential alternatives to current delivery models. Based on DWP estimates, a modernized and expanded system could more than double the nearly 800,000 members currently served by just over 400 credit unions. The growth potential for credit unions in the United Kingdom is strong, Cheney said.
"We had a good exchange of ideas on policies and strategies that will give credit unions greater flexibility to meet their members' needs and remain consumers' best option for financial services," Cheney explained. "That is a core objective, one we share in the U.S. and the U.K."
DWP is accepting public comment to the recommendations in its report through June 8.

World Council of Credit Unions is the global trade association and development agency for credit unions. World Council promotes the sustainable development of credit unions and other financial cooperatives around the world to empower people through access to high quality and affordable financial services. World Council advocates on behalf of the global credit union system before international organizations and works with national governments to improve legislation and regulation. Its technical assistance programs introduce new tools and technologies to strengthen credit unions' financial performance and increase their outreach.
World Council has implemented 300+ technical assistance programs in 89 countries. Worldwide, 68,882 credit unions in 109 countries serve 235 million people. Learn more about World Council's impact around the world at www.woccu.org.