USAID Selects WOCCU-FENACREP Program in Peru as Value Chain Finance Pioneer
January 08, 2009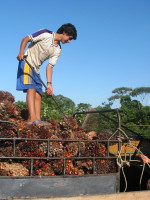 Farmers involved with WOCCU's value chain financing program in Peru offload palm fruits for palm oil production.
MADISON, Wis.—The U.S. Agency for International Development (USAID) has awarded its first Innovations in Financing Value Chains competition award for pioneering/ground breaking to the Credit Union Market Integration Program in Peru, co-funded by World Council of Credit Unions (WOCCU), Peru's national credit union federation (FENACREP) and USAID. The award recognizes the top programs in providing financial and increased market access to "value chain" participants—-producers, suppliers, buyers and others involved with bringing a specific product to market.
"Value chain" is an industry term for the process by which a crop or product moves from conception to consumer. One of the WOCCU-FENACREP program's goals is to link credit unions with producers in rural areas who lack strong relationships with key markets and the necessary financing required at any individual phase of the value chain, from production to commercialization. 
"The 'Value Chain Finance Methodology' submitted by WOCCU-Peru impressed our diverse panel of judges with its potential impact on the value chain, creativity of approach, validity of its model and relevance for other implementers," said Jeanne Downing, senior enterprise development advisor from USAID's Office for Microenterprise Development, which sponsored the competition.
Since September 2006, WOCCU's Peru program has been working with FENACREP to bring financial access and increased market competition to small producers through credit unions in the rural Andean and Amazon regions of the country.
WOCCU's innovative approach is designed to mitigate the risks associated with each rural value chain (both agricultural and non-agricultural). It involves careful analysis to determine product supply and demand, identifying at which point in the value chain financial access brings the greatest value to producers and best investment for the financial institution. Credit unions facilitate direct market relationships, thus eliminating, when possible, the need for expensive intermediaries. The institution develops loan products according to production cycles, and end-buyers channel payments through the credit union, which deducts the principal loan amount plus interest and deposits the remaining amount into a savings account for the producer.
Downing said the judges were especially impressed with how WOCCU's model eliminated third-party intermediaries in the value chain. Bringing together different value chain participants without additional guarantee schemes and with loans funded from credit union resources created a positive change in value chain structure and power relationships, she said.
"Because no outside loan capital was used and because credit unions are left with the knowledge of how to access a variety of value chains, this is a highly replicable and scalable approach," Downing said. "Overall, the program is sustainable and well documented, and the achieved results are quite impressive, particularly the expansion of the program's methodology beyond the WOCCU program."
To date, credit unions have used the methodology to finance 17 distinct value chains through 25 rounds of financing. In total, credit unions have disbursed US$794,000 through 531 loans to 3,285 rural producers, producer groups and other value chain actors.
A four-person panel of value chain finance experts judged submissions based on the program's impact on the value chain, its outreach approach, sustainability, replication and scalability. The competition solicited submissions from NGOs, contractors, banks, financial service providers, private sector firms and individual practitioners who facilitated or provided financing that helped encourage greater value chain competition and increased the income of actors within the value chain.
Luis Jimenez, WOCCU-Peru program director, will receive the award at a USAID-sponsored forum in Washington, D.C. in February. He will present the program there to an audience of policymakers, donors, leading academics and practitioners. Those interested in attending the event should contact Catherine Horn, chorn@qedgroupllc.com, for more details.
World Council of Credit Unions is the global trade association and development agency for credit unions. World Council promotes the sustainable development of credit unions and other financial cooperatives around the world to empower people through access to high quality and affordable financial services. World Council advocates on behalf of the global credit union system before international organizations and works with national governments to improve legislation and regulation. Its technical assistance programs introduce new tools and technologies to strengthen credit unions' financial performance and increase their outreach.
World Council has implemented 300+ technical assistance programs in 89 countries. Worldwide, 68,882 credit unions in 109 countries serve 235 million people. Learn more about World Council's impact around the world at www.woccu.org.