USDA Awards WOCCU Funds to Support First-time Ag Finance Program in Ethiopia
May 27, 2009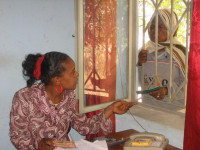 A credit union member visits her RUSACCO in rural Ethiopia to perform a transaction.
MADISON, Wis.—The U.S. Department of Agriculture (USDA) has awarded World Council of Credit Unions (WOCCU) approximately US$7.9 million through the Food for Progress Program to help finance credit union development aimed at providing agricultural extension services and financial access to farmers in Ethiopia. The four-year initiative is WOCCU's first long-term technical assistance program in the country.
WOCCU's "Enhancing Food Security and Rural Livelihoods in Ethiopia" program will assist rural savings and credit cooperatives (RUSACCOs, as the credit unions are known) to finance agricultural production and investment, mobilize savings and provide a range of non-financial services such as providing market information and training to their members. The program will also support small infrastructure investments to improve farmers' access to markets.
"WOCCU has provided training in our methodology and tools to a range of rural and urban SACCOs over the past few years," said Brian Branch, WOCCU executive vice president and COO. "In early 2007, we began looking for opportunities to increase our efforts in Ethiopia."
The RUSACCOs will work with WOCCU to improve their ability to extend new agricultural financial products and services specifically tailored for small farmers and other rural entrepreneurs. The program will target farmers who rely on agriculture as their primary source of income, but who struggle to produce sufficient food for their families. The program is designed to increase the farmers' productivity, connect them to markets and formalize farmer cooperatives for group training and support.
"Many of the RUSACCOs are new, as are the entities that support them," Branch added, "but they are well positioned to alleviate rural poverty and increase food security if given the opportunity to develop the kinds of financial products and services the country's farmers need."
According to the U.S. Department of State, 85% of Ethiopia's population relies on agriculture as the primary source of income. Agricultural activities in the country contribute 46% to Ethiopia's GNP and account for more than 80% of exports, but the region suffers from frequent drought, unsustainable agricultural practices and poor transport infrastructure. Compounded with steadily rising prices for food and agricultural inputs, the densely populated country struggles to keep up with demand.
As such, the Ethiopia program will also support self-help activities in the community to build or improve infrastructure related to agriculture, including the development of storage facilities, irrigation systems, access roads, bridges and basic sanitation facilities.
WOCCU's program will target the regions of Tigray, Amhara and Oromia, which span about half the country from north to south. The three regions are considered agriculturally important to the country and have a high concentration of farming households and existing RUSACCOs.
Through its Food for Progress program, USDA donates millions of metric tons of agricultural commodities each year to organizations implementing programs in countries struggling to meet food security needs. Grantees like WOCCU use proceeds from the sale of the commodities to develop programs to improve agricultural production and productivity, increase access to markets and improve rural household income and livelihoods.
WOCCU program activities in Ethiopia are slated to begin in November 2009, following the USDA shipment and monetization of 23,000 tons of hard red winter wheat to the country, which will finance WOCCU's development efforts. The program will continue through November 2013. 
World Council of Credit Unions is the global trade association and development agency for credit unions. World Council promotes the sustainable development of credit unions and other financial cooperatives around the world to empower people through access to high quality and affordable financial services. World Council advocates on behalf of the global credit union system before international organizations and works with national governments to improve legislation and regulation. Its technical assistance programs introduce new tools and technologies to strengthen credit unions' financial performance and increase their outreach.
World Council has implemented 300+ technical assistance programs in 89 countries. Worldwide, 68,882 credit unions in 109 countries serve 235 million people. Learn more about World Council's impact around the world at www.woccu.org.