U.S. CU Volunteers Spread Holiday Cheer & CU Expertise to Kenya Orphanage
Orphanage's new credit union is one of first to offer mobile banking
BUSIA, Kenya — The holidays came early for children of Busia Compassionate Centre, an orphanage in rural western Kenya supported by World Council of Credit Unions, thanks to a group of U.S. credit union volunteers who recently visited to help construct new playground equipment, donate toys and conduct a training session for the stakeholders of the orphanage's new credit union, Busia Compassionate Savings and Credit Cooperative (SACCO).
Among the visitors were Bruce Foulke, World Council board member and American Heritage Federal Credit Union (AHFCU) president and CEO; Carla Altepeter, Numerica Credit Union CEO; Hank Hubbard, Communicating Arts Credit Union (CACU) CEO; and Sierra Chiesa, Frankenmuth Credit Union member services representative.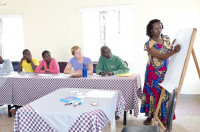 Volunteers discussed credit union operations with SACCO board members, volunteers and orphanage students.
During the visit, the U.S. volunteers trained SACCO board members, orphanage students and volunteers on the difference between credit unions and banks, governance, savings and credit. They also helped build a playground, largely sponsored by Michigan credit unions, to top off the orphanage's new facilities.
In addition, the visitors held a holiday celebration, where Foulke dressed as Santa Clause and gave out presents. His wife, Melissa Foulke, a school teacher who has forged a relationship with the orphanage by sending a dress collection crafted by students in her fashion and design class and exchanging letters with the children, also sent videos of her students reading books and singing that her husband presented to the Busia children and staff. He also connected Foulke's students with the Busia children in real time through FaceTime video calls.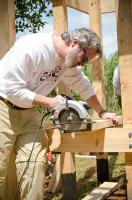 Hank Hubbard, Communicating Arts Credit Union CEO, prepared materials to construct a playground for Busia's new facilities.
The international credit union movement has contributed to the stability and self-sustainability of Busia Compassionate Centre by providing food stipends, educational scholarships, donating needed items like school and first aid supplies and funding the construction of new orphanage facilities, which will be completed in the next few weeks. AHFCU, Numerica Credit Union and CACU have all contributed financially toward the costs of food, medicine, education and the construction of new facilities. By initially building a foundation to meet the orphanage's basic needs-food, water, education and shelter-World Council can proceed to offer the entire community with access to financial services through the orphanage's SACCO.
"The generous support from the U.S. credit unions has greatly facilitated the success of this program," said Brian Branch, World Council president and CEO.
World Council began working with Busia Compassionate Centre and SACCO in 2006 as part of a U.S. Department of Agriculture-funded program in Kenya aimed at mitigating the impact of HIV/AIDS on economic growth through credit union modernization. Busia's SACCO is one of the first in Kenya to use e-SACCO methodology, which allows members to make deposits and withdrawals from their account using M-Pesa, a mobile money transfer service, and World Council cellphone technology. World Council will implement its Semilla Cooperativa [cooperative seed] outreach methodology to enable SACCO field agents to help bring financial services to rural communities using smartphones and portable printers.
Learn more about Busia Compassionate Centre at www.busiaorphanage.org.  
El Consejo Mundial de Cooperativas de Ahorro y Crédito es la asociación gremial y agencia de desarrollo para el sistema internacional de cooperativas de ahorro y crédito. El Consejo Mundial promueve el crecimiento sustentable de las cooperativas de ahorro y crédito y otras cooperativas financieras en todo el mundo a fin de facultar a las personas para que mejoren su calidad de vida a través del acceso a servicios financieros asequibles y de alta calidad. El Consejo Mundial realiza esfuerzos de defensa activa en representación del sistema global de las cooperativas de ahorro y crédito ante organizaciones internacionales y trabaja con gobiernos nacionales para mejorar la legislación y la regulación. Sus programas de asistencia técnica introducen nuevas herramientas y tecnologías para fortalecer el desempeño financiero de las cooperativas de ahorro y crédito y profundizar su alcance comunitario.
El Consejo Mundial ha implementado 290 programas de asistencia técnica en 71 países. A nivel mundial, 57,000 cooperativas de ahorro y crédito en 105 países atienden a 217 millones de personas. Obtenga más información sobre el impacto global del Consejo Mundial en www.woccu.org.

NOTA: Oprima el botón del mouse sobre las fotografías para verlas/descargarlas en alta resolución.
Contacto principal:
Rebecca Carpenter
Organización:
World Council of Credit Unions
Correo electrónico:
rcarpenter@woccu.org
Teléfono:
+1-608-395-2031