US Leagues Lend Expertise to Russian Credit Union League
October 02, 2006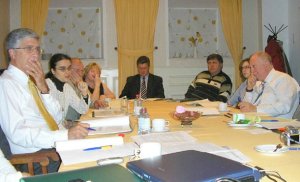 (l-r): John Florian, Natalia Koltsova, translator, Valery Kasatkin, RCUL chairman, Anne Cochran, Sergey Borovik, RCUL board member, Alexander Norov, RCUL board member, Liliana Tangwall and Gene Brody meet on the first day of the visit. Photo courtesy of RCUL.
The Russian Credit Union League (RCUL) recently invited a World Council of Credit Unions advisory team to Russia to help develop a long- term strategy for strengthening the league.
World Council's chief operating officer Brian Branch, credit union analyst Liliana Tangwall and five US league volunteers spent one week working with league representatives and government officials to analyze and provide recommendations on RCUL's current services, products and policies. Faced with the large geographic expanse of the country, the team reviewed with RCUL methods for communication and information support to credit unions via publications, web-based training and e-mail legislative updates.

The World Council advisory team meets with Podderzhka Credit Union representatives in Volokolamsk, Russia.
Though the Russian government passed credit union legislation in 2001, it capped credit union growth at 2,000 members and did not provide for prudential standards or credit union regulation and supervision.
Team members John Florian, vice president of the Ohio Credit Union League, and Dana Hofmann-Geye, executive vice president and general counsel at the Minnesota Credit Union Network worked with RCUL advocacy strategies to update credit union legislation. They met with officials at the Ministry of Economic Development and Ministry of Finance to help RCUL present models for credit union supervision and regulation. Central Bank officials were unable to attend due to the assassination of Andrei Kozlov, deputy director of the Central Bank, the day before the scheduled meetings. Kozlov had led the Central Bank's crusade against money laundering by banks.
Lacking a common technology platform for credit unions, RCUL looked to Pat Jury, Iowa Credit Union League CEO, to help develop data processing strategies. Jury guided the league on conducting due diligence to assess the potential for an industry-wide credit union technology platform.
CEO Gene Brody, whose Bay Ridge FCU was established by Russian immigrants in New York, consulted with RCUL on marketing and branding strategies. Brody and Branch were invited to speak on national radio about his credit union's connection to the Russian movement.
Branch and Anne Cochran, Louisiana Credit Union League CEO, outlined RCUL's role in providing training and discussed various ways the league could support their credit unions.
Liliana Tangwall visited Siberian credit unions prior to the team's arrival to research the RCUL member's operations and the role of regional associations. She reported her findings to RCUL and the advisory team.
The individuals of the advisory team brought together a history of strong international volunteer experience with World Council. Florian, Hoffman-Geye and Jury are active in their leagues' World Council international partnerships; Brody hosted Russian credit union delegates at the New York Credit Union League and Bay Ridge FCU last year; and Cochran helped pioneer the Strathmore-WOCCU African Management Institute in Kenya.
The Russian credit union movement boasted 14,000 credit unions with more than 8 million members at its peak in 1916. After the outlaw of credit unions in the 1930s and the movement's revival sixty years later, there are approximately 750 credit unions and 490 rural credit cooperatives serving 500,000 members across Russia today. World Council, the Irish League of Credit Unions, Credit Union Foundation of Australia, Desjardins, Alaska Credit Union League and California Credit Union League helped Russian credit unions establish RCUL in 1994.
World Council of Credit Unions is the global trade association and development agency for credit unions. World Council promotes the sustainable development of credit unions and other financial cooperatives around the world to empower people through access to high quality and affordable financial services. World Council advocates on behalf of the global credit union system before international organizations and works with national governments to improve legislation and regulation. Its technical assistance programs introduce new tools and technologies to strengthen credit unions' financial performance and increase their outreach.
World Council has implemented 300+ technical assistance programs in 89 countries. Worldwide, 68,882 credit unions in 109 countries serve 235 million people. Learn more about World Council's impact around the world at www.woccu.org.