Vermont and Peru Credit Union Associations Solidify Partnership
Congressional Committee in Peru Invites AVCU President to Speak on US Movement
June 01, 2007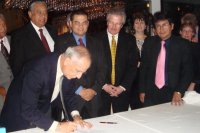 FENACREP and AVCU sign their formal WOCCU International Partnerships agreement in Lima. (l-r): John Benoit (AVCU), Manuel Rabines (FENACREP / WOCCU), Victor Corro (WOCCU), Joe Bergeron (AVCU) and Jorge Zevallos Carpio (FENACREP).
Madison, WI—After nearly a year of preparation and planning, the Association of Vermont Credit Unions (AVCU) and Nacional de Cooperativas de Ahorro y Crédito del Perú (FENACREP) signed a World Council of Credit Unions (WOCCU) International Partnership agreement last week in Lima, Peru.
WOCCU board members, Manuel Rabines, FENACREP CEO, and Ron Hance, President and CEO of Heritage Family Federal Credit Union in Vermont, were among those in the partnership delegation, which included AVCU President Joe Bergeron, AVCU Board Chairman John Benoit, AVCU Vice-Chair Susan Poczobut, AVCU Director Jim Adorisio, and Joe Finnigan, President and CEO of Vermont Federal Credit Union.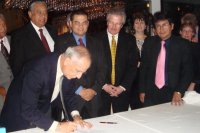 The delegation had the opportunity to speak at a Congressional committee meeting during their visit. Standing outside the government building, (front, l-r): Benoit, Jim Adorisio (AVCU), Ron Hance (Heritage Family FCU / WOCCU); (back, l-r): Susan Poczobut (AVCU), Joe Finnigan (Vermont FCU) and Bergeron. Photo courtesy of Joe Bergeron.
Following two days of credit union visits around Lima and the morning before the partnership signing, the delegation attended a meeting of the Cooperative Committee of Peru's National Congress at the committee's invitation. Legislators are currently rewriting Peru's cooperative laws and called upon Bergeron to provide them with an impromptu testimony of the US credit union system. Bergeron spoke about challenges in the United States, the tax-exempt status of US credit unions, fields of membership and benefits of the Vermont and Peru partnership. His testimony was a great step forward in communicating Peru's connectivity to the greater worldwide credit union movement.
"We were most pleased to see our movements join efforts to improve and strengthen credit unions in Peru and Vermont," Rabines said of the partnership. "There are so many things we can do together to benefit our members and keep the credit union philosophy alive."
Rabines, Bergeron, Benoit, FENACREP Board Chairman Jorge Zevallos Carpio and WOCCU International Partnerships Manager Victor Corro formally signed the agreement following their meeting with Congress.
"This is like a dream come true," echoed Hance, who had hosted a reception at his home for the Peruvian delegation during their visit to Vermont last year. "This dialogue and cross- cultural interaction is what it is all about. It inspires me to develop credit unions as a pathway to improving lives everywhere."
The group capped off their visit in Cuzco, Peru, with one more credit union visit followed by a trek to Macchu Picchu.
Upon his return home, Bergeron expressed a "newfound appreciation" for World Council's work throughout the world.
"In explaining our week to co-workers and families, words just don't come easily to convey the incredible variety of impressions and emotions experienced during our short visit," Bergeron said. "To think that we've only experienced a single developing country and its culture while WOCCU deals with many is quite incredible."
WOCCU's International Partnerships program facilitates networking experiences between developed and developing credit union movements through delegation visits, meetings, internships and volunteer assignments. Future activities for FENACREP, AVCU and their credit unions include developing a deposit insurance system for Peru's credit union members, attending and speaking at each other's annual conventions and exploring specific credit union-to-credit union partnerships.
World Council of Credit Unions is the global trade association and development agency for credit unions. World Council promotes the sustainable development of credit unions and other financial cooperatives around the world to empower people through access to high quality and affordable financial services. World Council advocates on behalf of the global credit union system before international organizations and works with national governments to improve legislation and regulation. Its technical assistance programs introduce new tools and technologies to strengthen credit unions' financial performance and increase their outreach.
World Council has implemented 300+ technical assistance programs in 89 countries. Worldwide, 68,882 credit unions in 109 countries serve 235 million people. Learn more about World Council's impact around the world at www.woccu.org.