Vermont and Peru Credit Unions Begin International Exchange
AVCU
November 09, 2006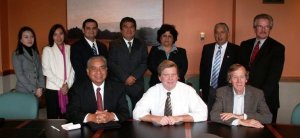 Visit to VT State Employees CU. Back (l-r): Rocio Miyashiro, ABACO CEO; Verónica Miyahira, ABACO marketing manager, Victor Corro World Council international partnerships manager; Miguel Zeballos, AELUCOOP CEO; Liliana Valdizán, FinanTel CEO; Jorge Zevallos, FENACREP chairman; Joe Bergeron, AVCU president. Front (l-r): Manuel Rabines, FENACREP president & World Council treasurer; Steven Post, VT State Employees CU CEO); VT State Employees CU board member.
South Burlington, VT—The Association of Vermont Credit Unions (AVCU) hosted six leaders of the Peru credit union movement last week. The dignitaries came for an in-depth exploration of American credit union operations and to experience Vermont culture. The goal was to share with South America's leaders the knowledge and success that Vermont credit unions have acquired through more than 60 years of service to consumers. World Council of Credit Unions, Inc. coordinates the international partnerships program.
Peru has five times more credit unions than Vermont but only two times Vermont's 270,000 members. The combined assets of Peru's credit unions reflect their country's economic situation; their 150 credit unions hold assets equal to just one-third of those held by Vermont credit unions.
During their three-day visit, the five Peruvian credit union CEOs and the president of their national association visited credit unions in Rutland, Montpelier, Berlin and South Burlington. They also visited the Department of Banking, Insurance, Securities and Health Care Administration and the AVCU office. They expressed a keen interest in learning about Vermont's legal and regulatory structure for credit unions, as well as modern services like home banking, ATM networks, shared branching and other technologies.
The visit is the first step of a multi-year relationship between Vermont and Peru credit unions where representatives will travel to the each other's country multiple times per year. The cooperative exchange program is designed to bring advancements and technologies enjoyed by American credit union members to their fellow credit union members in Peru. World Council's Brian Branch, COO, Victor Corro, international partnerships manager, and Michelle Kramer, international partnerships assistant also participated in the visit.
World Council of Credit Unions is the global trade association and development agency for credit unions. World Council promotes the sustainable development of credit unions and other financial cooperatives around the world to empower people through access to high quality and affordable financial services. World Council advocates on behalf of the global credit union system before international organizations and works with national governments to improve legislation and regulation. Its technical assistance programs introduce new tools and technologies to strengthen credit unions' financial performance and increase their outreach.
World Council has implemented 300+ technical assistance programs in 89 countries. Worldwide, 68,882 credit unions in 109 countries serve 235 million people. Learn more about World Council's impact around the world at www.woccu.org.