WOCCU-Afghanistan Staff Live-Feed to World Credit Union Conference
Canadian Stephen Lewis Praises Credit Unions for Combating Poverty
July 31, 2007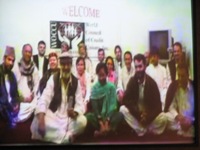 Eighteen WOCCU and credit union staff from Afghanistan joined the conference via live video feed to share their experience of credit union development in a war-torn country.
Calgary, CANADA—"The writer-philosopher Victor Hugo once said, 'No power on earth can stop an idea whose time has come.' Well, our time has come."
Pete Crear, World Council of Credit Unions (WOCCU) President and CEO opened his 'State of the Global Credit Union Movement' address Monday morning at the World Credit Union Conference in Calgary, Canada, with a charge of responsibility for attendees to create as many opportunities as possible for members throughout the world.
He touted the successes of WOCCU in the last year, including a record US$35 million in funding from various and new sources for international development, 22 active international partnerships between developed and emerging credit union systems, surpassing the US$1.5 billion in international remittance distribution and the positioning of credit unions as experts in combating poverty on a sustainable level.
WOCCU CEO Pete Crear delivers his 'State of the Global Credit Union Movement' address to 2,000 attendees at Monday's general session.
Through a live video feed, Crear welcomed 18 staff members and credit union representatives from northern Afghanistan into a hall of 2,000 attendees. Edgar Comeros, WOCCU-Afghanistan Deputy Project Director, led the discussion from Calgary. The enthusiastic group in Afghanistan shared with the crowd their experience and the challenges they face in credit union development in a conflict-ridden country.
"We're trying to teach people to help themselves. That's what credit unions are about," said Randy Spears, WOCCU-Afghanistan Project Director, alongside his staff in Afghanistan. "With the help of my Afghan friends, we can make this happen."
Stephen Lewis, former U.N. Special Envoy for HIV/AIDS in Africa and current Chairman of the Stephen Lewis Foundation, challenged and inspired the crowd with his keynote presentation, "Time to Deliver—Winning the Battle Against Poverty." Lewis' passion for the topic reverberated throughout the packed hall. In the reality of despair and hopelessness he has witnessed throughout the world, Lewis expressed little hope that nations themselves could overcome the widespread and unacceptable grips of poverty. He did, however, put great hope in the global credit union movement's ability to mobilize individuals and communities to improve the human condition.
"Whether in Kenya, Malawi, Ecuador, Afghanistan, Colombia—all over the world—the credit union movement is beginning to recognize its—by no means simple—provision of services that transforms human life and helps people function in a society often under siege," Lewis said. "What World Council has the capacity to do is to intervene in this world where others haven't. You have a network which transcends all networks of the world."
Lewis also praised the initiative and innovation of WOCCU's International Partnerships program, which held a breakfast and informational session Monday.
Twenty-three countries were represented at the morning session, which gave representatives the opportunity to meet and discuss the objectives of their partnerships. During the breakfast, CEO Eleonora Zgonjanin Petrovic of FULM Savings House in Macedonia presented WOCCU and the Michigan Credit Union League (MCUL) a plaque of appreciation on behalf of credit unions in Macedonia for their support and help in strengthening credit unions in the country. The special plaque was made by a credit union member who has grown out of poverty with a microenterprise loan from his credit union. Later, about 70 international partnership representatives attended a joint afternoon session with the Canadian Co-operative Association.
World Council of Credit Unions is the global trade association and development agency for credit unions. World Council promotes the sustainable development of credit unions and other financial cooperatives around the world to empower people through access to high quality and affordable financial services. World Council advocates on behalf of the global credit union system before international organizations and works with national governments to improve legislation and regulation. Its technical assistance programs introduce new tools and technologies to strengthen credit unions' financial performance and increase their outreach.
World Council has implemented 300+ technical assistance programs in 89 countries. Worldwide, 68,882 credit unions in 109 countries serve 235 million people. Learn more about World Council's impact around the world at www.woccu.org.