WOCCU'S Pete Crear to Retire
Board of Directors Launches Global Search for Replacement
April 27, 2011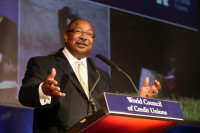 Pete Crear, President & CEO, WOCCU
MADISON, Wis. — Pete Crear, president and CEO of World Council of Credit Unions (WOCCU) today announced that he will retire following WOCCU's World Credit Union Conference in Glasgow, Scotland, in July. Crear, who has held the top post in the global credit union trade and development organization since June 20, 2005, will leave the organization in early August.
"We're very happy for Pete as he moves on to what I know will be his next level of credit union service, but very sad over the great loss WOCCU will experience with his departure," said WOCCU Chair Barry Jolette, president and CEO of San Mateo Credit Union in Redwood City, Calif. "We'll never replace Pete, but the WOCCU board will immediately begin the search for its next president and chief executive officer."
Under Crear's leadership, WOCCU significantly expanded not only its membership, but also its influence in credit union development worldwide. WOCCU has launched development programs in Ethiopia, Haiti, Peru and other countries, as well as seeing its development program in Afghanistan grow significantly. During his tenure, WOCCU convened its first technical congresses to train credit union managers in Africa, Latin America and the South Pacific. WOCCU also launched the European Network of Credit Unions, the International Credit Union Regulators' Network and the Global Women's Leadership Network, a peer-to-peer and educational network that brings together women credit union leaders from both developed and developing countries.
In his six years at WOCCU's helm, the organization successfully lobbied on behalf of member organizations in Costa Rica, Poland and other countries, as well as helped foster the passage of credit union legislation in Kenya and Malawi. The organization also represented the global credit union movement before the United Nations, the Basel Committee on Banking Supervision, the International Accounting Standards Board and other international monetary organizations, successfully making the case for proper regulatory oversight on behalf of credit unions worldwide.
"When I first began as a junior auditor with the Michigan Credit Union League in 1965, I had no idea that I would one day find myself here," said Crear, a Detroit native. "I am honored at the faith the board has shown in me over the years and humbled by the good work that we have been able to do as part of WOCCU's mission of service."
In 2008, the Foundation for Polish Credit Unions, part of the Polish credit union system, awarded Crear the Feniks Prize, the Polish system's most prestigious award, for WOCCU's work helping strengthen credit unions in Eastern Europe. In 2007, he earned the Michigan Credit Union League's (MCUL) Distinguished Service Award and was inducted into the MCUL Hall of Fame. In 2006, the Consumer Federation of America awarded him the Esther Peterson Consumer Service Award.
Crear also received the inaugural African-American Credit Union Lifetime Achievement Award, which was subsequently named after him, and a college scholarship was established in his name. He was inducted into both the Credit Union Executives Society (CUES) Hall of Fame and the Cooperative Development Foundation Hall of Fame and received the National Credit Union Foundation Herb Wegner Lifetime Achievement Award, the U.S. credit union movement's highest honor.
Crear accepted the WOCCU position after retiring from Credit Union National Association (CUNA), a decision he said he never regretted. Prior to joining WOCCU, Crear was CUNA's executive vice president of external relations and, before that, executive vice president and chief operating officer responsible for daily operations of the Madison, Wis., office. He also served in top leadership positions at the Indiana, Connecticut and Michigan credit union leagues.
A special ceremony and other events honoring Crear's achievements at WOCCU will be held at the World Credit Union Conference in Glasgow. For more information and to register for the conference, visit www.woccu.org/glasgow2011.
World Council of Credit Unions is the global trade association and development agency for credit unions. World Council promotes the sustainable development of credit unions and other financial cooperatives around the world to empower people through access to high quality and affordable financial services. World Council advocates on behalf of the global credit union system before international organizations and works with national governments to improve legislation and regulation. Its technical assistance programs introduce new tools and technologies to strengthen credit unions' financial performance and increase their outreach.
World Council has implemented 300+ technical assistance programs in 89 countries. Worldwide, 68,882 credit unions in 109 countries serve 235 million people. Learn more about World Council's impact around the world at www.woccu.org.