WOCCU Announces 2007 Credit Union Photo Contest
September 07, 2007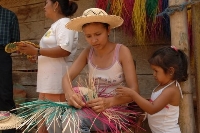 Through a loan from their credit union, a family in Bolivia is able to make hats to sell at their local market.
Madison, WI—World Council of Credit Unions (WOCCU) invites credit unions around the world to share photos of their members in action for its first annual photo contest. The five winning photos will be showcased in a beautiful gallery setting at the 2008 World Credit Union Conference in Hong Kong.
By sharing photos of credit union members in action–working, doing business at the credit union or simply spending time with their families–contestants can offer a glimpse into a world many people may not be able to see.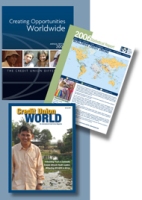 WOCCU publications will use photos entered in the contest.

Through a photo we can meet a Bolivian family who started a business making and selling hats at their local market. A loan from their credit union made it possible to purchase more supplies and sell more hats.

All photos entered in the contest are eligible to be featured in various WOCCU publications such as its website, annual report, Credit Union World magazine and brochures.

Contestants must submit a caption with each photo stating who is in the picture, the credit union members' story, where and when the photo was taken. Send only high resolution digital images or developed hard copies please. Photos must be a true representation of its contents, an original work and not altered in any way.

Contest photos must be submitted no later than December 1, 2007, with the photographer's name, organization, address, phone number and email.

Please contact Lindsay Seabrook at lseabrook@woccu.org or (608) 395-2014 with questions or to submit a digital photo for the contest. You can also mail hard copies to:

World Council of Credit Unions
Attn: Lindsay Seabrook/ Photo Contest
5710 Mineral Point Road
Madison, WI 53705-4493
USA
World Council of Credit Unions is the global trade association and development agency for credit unions. World Council promotes the sustainable development of credit unions and other financial cooperatives around the world to empower people through access to high quality and affordable financial services. World Council advocates on behalf of the global credit union system before international organizations and works with national governments to improve legislation and regulation. Its technical assistance programs introduce new tools and technologies to strengthen credit unions' financial performance and increase their outreach.
World Council has implemented 300+ technical assistance programs in 89 countries. Worldwide, 68,882 credit unions in 109 countries serve 235 million people. Learn more about World Council's impact around the world at www.woccu.org.