WOCCU Board Chairman Addresses Thailand AGM
Cooperation Among Cooperators the Theme
June 14, 2005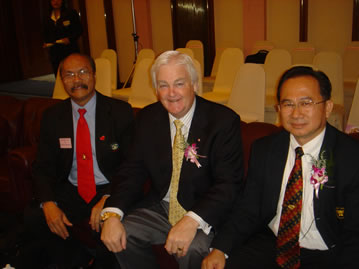 (l-r) Dr. Sawat Saengbangpla, president of FSCT; L.R (Bobby) McVeigh, WOCCU board chairman; Mr. Supachai Srisupaaksorn, president of the Credit Union League of Thailand (CULT)
Madison, WI – WOCCU board chairman L.R. (Bobby) McVeigh addressed the attendees of the Federation of Savings and Credit Cooperatives of Thailand (FSCT) Annual General Meeting last week. During the meeting, he gave a presentation to the over 1,000 attendees on the Cooperation Among Credit Cooperatives. McVeigh's comments centered around cooperation among credit unions and their associations, and in turn, the global movement. McVeigh explained, "You can enhance the ability of 'people helping people' by collaboration on a bigger scale." During his attendance of the conference and AGM, McVeigh also met with FSCT president Dr. Sawat Saengbangpla and general manager Mr. Anan Chatrupacheewin.
Click here to view all photos.
World Council of Credit Unions is the global trade association and development agency for credit unions. World Council promotes the sustainable development of credit unions and other financial cooperatives around the world to empower people through access to high quality and affordable financial services. World Council advocates on behalf of the global credit union system before international organizations and works with national governments to improve legislation and regulation. Its technical assistance programs introduce new tools and technologies to strengthen credit unions' financial performance and increase their outreach.
World Council has implemented 300+ technical assistance programs in 89 countries. Worldwide, 68,882 credit unions in 109 countries serve 235 million people. Learn more about World Council's impact around the world at www.woccu.org.