WOCCU Chairman Encourages New Zealand CU Legislators to Consider Regulation Change
June 02, 2005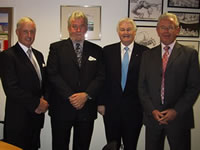 NZACU CEO Doug McLaren with WOCCU director Neil McDonald, Hon. Dr. Michael Cullen; Deputy Prime Minister and L.R. (Bobby) McVeigh; WOCCU board chairman.
Madison, WI – "Governments often don't recognize the value of credit unions," says L.R. (Bobby) McVeigh, chairman of World Council of Credit Unions, Inc. (WOCCU). He continued, "In many areas of the world, credit unions have provided alternatives to moneylenders and loan sharks, as well as high interest banks, by providing lower fee services, lower interest rates on loans, and higher deposit interest rates. Credit unions have a reputation for treating their members fairly, regardless of the amounts they borrow and save. But in New Zealand, credit unions have legal restrictions on membership and growth that don't allow them to be as competitive as they could be."
New Zealand credit unions can accept deposits only up to $250,000, can draw members only from within a small geographic area and who share a common bond, and are not allowed to market themselves as a bank, despite offering most core banking services.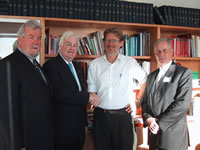 (l-r) WOCCU director Neil McDonald and L.R. (Bobby) McVeigh; WOCCU board chairman, Ron Donald; Green Party Co Leader and NZACU CEO Doug McLaren.
McVeigh notes that governments often don't recognize the value of credit unions. "The bottom line for governments is that they should be promoting competition. Every person should have the option of becoming a member of a credit union." Because of credit union efforts, they may get that chance; with Commerce Minister Pete Hodgson has promised changes to this law. "The legislation has to be changed, and some new legislation crafted, to allow the credit unions to become more competitive, to become a viable choice for consumers in New Zealand," said McVeigh.
In Canada, one in two people is a member of a credit union. In New Zealand, one in twenty people is a member. Not only would changing the law give the New Zealand financial system the competition it needs to keep the moneylenders at bay, it could enable credit unions to increase their international profile.
World Council of Credit Unions is the global trade association and development agency for credit unions. World Council promotes the sustainable development of credit unions and other financial cooperatives around the world to empower people through access to high quality and affordable financial services. World Council advocates on behalf of the global credit union system before international organizations and works with national governments to improve legislation and regulation. Its technical assistance programs introduce new tools and technologies to strengthen credit unions' financial performance and increase their outreach.
World Council has implemented 300+ technical assistance programs in 89 countries. Worldwide, 68,882 credit unions in 109 countries serve 235 million people. Learn more about World Council's impact around the world at www.woccu.org.