WOCCU Commemorates CUNA
Cuna Turns 70, Receives Credit Union Ambassador's Award From WOCCU
October 28, 2004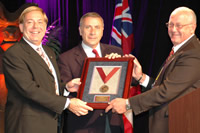 Gary Plank, WOCCU delegate and first vice chairman (right) presents the Credit Union Ambassador Award to CUNA president (center) Dan Mica and board chairman Dick Ensweiler
In honor of Credit Union National Association's (CUNA) 70th anniversary, the World Council of Credit Unions, Inc. (WOCCU) presented their largest member with a Credit Union Ambassador's Award on October 23. WOCCU began as an outgrowth of CUNA, CUNA International, before gaining autonomy, and CUNA has since become their largest member.
Gary Plank, WOCCU delegate and first vice chairman of the board, delivered a speech commemorating CUNA on its achievement, focusing on their role in the International Partnerships program—an initiative that pairs credit unions in developed and developing nations for mutual development. CUNA contributes monetary support and technical assistance to the program, which continues to thrive, adding three new Partnerships last year.
Plank also spoke more generally about the supportive relationship between WOCCU and CUNA, saying, "Over the years, CUNA has been an invaluable mentor, partner and friend to WOCCU." He added that CUNA has "guided our organization, taught us through example, stepped in when needed and encouraged our many international development efforts." After his speech, Plank presented the award to CUNA president and CEO Dan Mica.
World Council of Credit Unions is the global trade association and development agency for credit unions. World Council promotes the sustainable development of credit unions and other financial cooperatives around the world to empower people through access to high quality and affordable financial services. World Council advocates on behalf of the global credit union system before international organizations and works with national governments to improve legislation and regulation. Its technical assistance programs introduce new tools and technologies to strengthen credit unions' financial performance and increase their outreach.
World Council has implemented 300+ technical assistance programs in 89 countries. Worldwide, 68,882 credit unions in 109 countries serve 235 million people. Learn more about World Council's impact around the world at www.woccu.org.