WOCCU Delegation to Advocate before Polish Parliament on Behalf of Credit Unions
September 12, 2008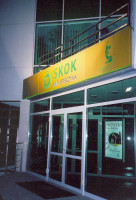 A branch of Stefczyka, Poland's largest credit union, is located in the National Association of Co-operatives Savings & Credit Unions' headquarters in Sopot. The acronym SKOK, the brand by which Polish credit unions are known, stands for Społdzielcze Kasy Oszczędnościowo-Kredytowe.

GDAŃSK, Poland—Legislation hostile to financial cooperatives has recently been proposed to the Polish Parliament, putting the continued growth of the country's credit union movement at risk, say Polish credit union officials. Participants in a World Council of Credit Unions (WOCCU) engagement program, meeting in Poland during the week of Sept. 14 to study the country's cooperatives, will advocate on behalf of what has been one of the world's fastest-growing, most successful credit union systems.
"The National Association of Co-operative Savings & Credit Unions (NACSCU) has seen its members' continued success challenged by Polish banking groups' introduction of amendments to existing credit union laws that are hostile to the movement," said Brian Branch, WOCCU's executive vice president and chief operating officer who is leading the group of U.S. credit union and league executives. "NACSCU executives have asked us to advocate on the movement's behalf in Warsaw this week."
The proposed amendments seek to change Poland's credit union law, passed in 1995 at the rebirth of the Polish credit union movement. Among other issues, the amendments would end all lifetime membership provisions, requiring members to leave their credit unions if they leave employers who belong to those credit unions' fields of membership. In addition, the amendments would limit credit union access to certain funding sources and reduce credit union oversight authority for NACSCU, one of WOCCU's member organizations.
"This is a key moment for the Polish movement," Branch said. "If these amendments are passed, they would damage Poland's credit union system."
The amendments in question are one of two sets of changes to the law that were submitted to Parliament, according to Grzegorz Bierecki, NACSCU president and WOCCU treasurer. A second set of more supportive amendments were submitted by the office of Polish President Lech Kaczyński. However, President Kaczyński's amendments were thrown out because Polish parliamentary procedure does not allow the President to submit new legislation when one set of proposals is already under consideration. Polish and U.S. credit union movement executives will attempt persuade lawmakers to adapt pending amendments to make them less harsh toward Polish credit unions, Bierecki said.
Joining Branch on the engagement tour and in advocacy efforts are Joe Bergeron, president of the Association of Vermont Credit Unions; Bill Cheney, president and CEO of the California & Nevada Credit Unions Leagues; Barry Jolette, CEO of San Mateo Credit Union in Redwood City, Calif., and WOCCU first vice chairman; Jim McCormack, president of the Pennsylvania Credit Union Association; Mike Mercer, president of Georgia Credit Union Affiliates; John Radebaugh, president of the North Carolina Credit Union League; and Mike Schenk, vice president of economics and statistics for CUNA & Affiliates.
The delegation of U.S. executives will meet with Polish government officials in Warsaw on Sept. 18. The group will also spend time with credit union and association officials in Gdańsk and Krakow.
As of Dec. 31, 2007, NACSCU had 67 affiliated credit unions serving 1.7 million members through 1,683 points of service. Consolidated assets in the NACSCU system totaled US$2.99 billion. Member credit unions have captured US$2.75 billion in savings deposits and shares, which had helped finance an aggregate loan portfolio of US$2.11 billion by year-end 2007.
World Council of Credit Unions is the global trade association and development agency for credit unions. World Council promotes the sustainable development of credit unions and other financial cooperatives around the world to empower people through access to high quality and affordable financial services. World Council advocates on behalf of the global credit union system before international organizations and works with national governments to improve legislation and regulation. Its technical assistance programs introduce new tools and technologies to strengthen credit unions' financial performance and increase their outreach.
World Council has implemented 300+ technical assistance programs in 89 countries. Worldwide, 68,882 credit unions in 109 countries serve 235 million people. Learn more about World Council's impact around the world at www.woccu.org.